Hmm.. that is one disturbing looking graph full of red spikes!
A normal, healthy system would only ever have green spikes...
It's time for us to get up close and personal with what the exact problem might be using this nifty tool from Microsoft called the
Windows Performance Toolkit:-
Attachment 221644
Attachment 221645
Attachment 221646
Download the attachments, unrar them using WinRAR/7zip/or your preferred file extractor, and run the installer.
When done, please prepare your system for the diagnosis by
Disabling Paging Executive
(needed for xperf to run with the stackwalk profile)
DisablePagingExecutive.reg
Double click the downloaded .reg file and click yes to allow it change that entry in your registry.
Next, open a command prompt with admin rights (type in cmd at your search bar, right click on cmd.exe and run as administrator)
Go to C:\temp (cd\temp) (make the folder if you do not have it) and run the following commands:
Code:
xperf -on latency -stackwalk profile 
(I use a different folder for mine but it doesn't matter where you run it from)
Now wait for some time (2 - 3 minutes) while the high DPC and Interrupt usage occurs.
To stop the trace run the following command:
Code:
xperf -d DPC_Interrupt.etl 
This closes the trace and writes the result to the file
DPC_Interrupt.etl.
In the next step, make a double click the etl file (which would be in the C:\temp folder) to run the Viewer.
Now wait until the 2 passes are over.
Here's what the graphs looks like for example on my system (scroll down to see DPC CPU Utilization and Interrupt CPU Utilization)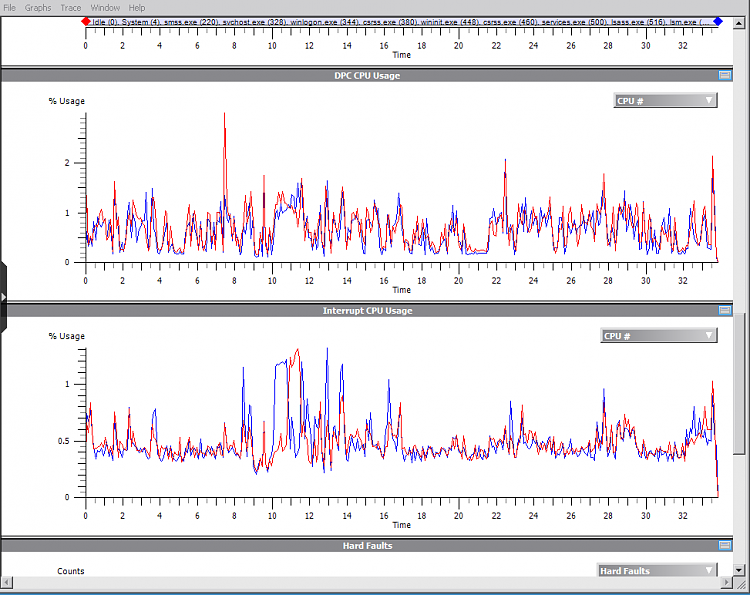 Go to
"Trace"(in the menu bar at the top) ->"Configure Symbol Paths"
and type in the following:
Click OK, to close the dialog.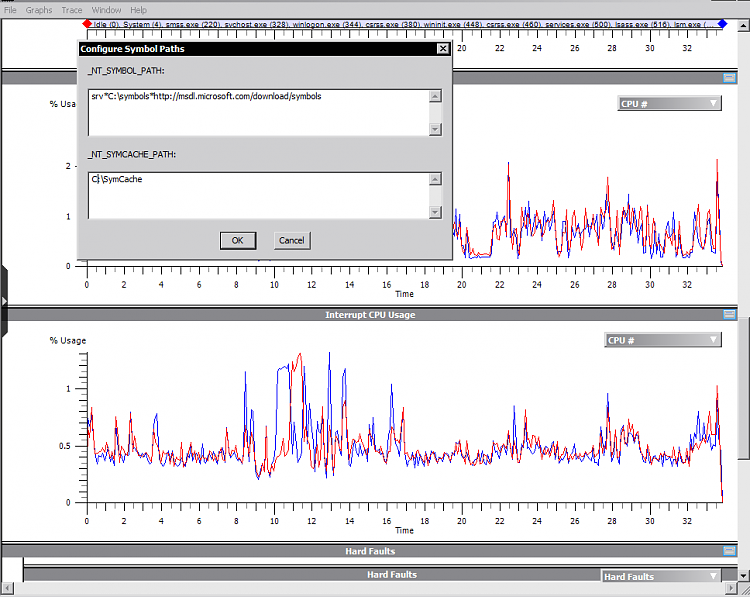 Now go to the graphs
"DPC CPU Usage"
or
"Interrupt CPU Usage"
(depending where your high CPU usage occurs) and select the interval, make a right click and select "Load Symbols" and next, click summary table.
Now, you will have to accept the license agreement to download the public debugging symbols.
(The PDBs can be massive, and it may take a while to download depending on your Internet connection)
Here you'll see summary of the calls..
Convert the etl files to uploadable txt files by using this command from the same location
(C:\temp)
where the DPC_Interrupt.etl file is stored.
Run it, and upload the txt file in your next reply please...
Code:
xperf -I DPC_Interrupt.etl -a dpcisr > dpc.txt
Thanks for your patience!