Hmmmm.........
Having said what I had said in my previous post
, you may still get your objective to a large extent.
How?
I had mentioned about USB Flash Security in my post #8. You may download the free version from here.
KASHU-USB Flash Security
The free version is limited to one USB pendrive and less than 4GB. ( Pay if you want more.)
Download and install it on your desktop. ( Be aware that it may try to install some unwanted tooolbars. Check them out during install.)
With your less-than 4GB pendrive plugged in, run the program and password-protect your pendrive.(All existing data on your pendrive will be erased during this process. So back them up and have a clean pendrive to start with. In addition I start with a FAT32 formatted pendrive.)
It will write the necessary .exe file to release/lock the pendrive in a 597KB unprotected area, while you can copy your data to the rest of the protected area.
Anyone using it on their computer can only see the unprotected area ( cannot access the protected area without the password) and can only FAT format that 597KB unprotected area
with Windows 7
. Your data in the protected area will still be safe. But then how do you access it? The enter/exit .exe is gone.
With the pendrive plugged in, rewrite what has been lost. You are back in business.
The screenshots.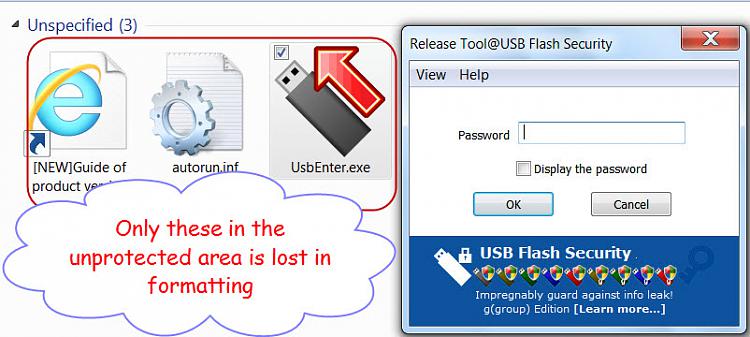 Your friend can still beat you by formatting the whole drive with HP USB Disk Storage Format Tool

. Your only consolation will be that he was not able to access the data you had stored. (Well, actually that is the purpose of this tool - to prevent others from accessing your important data if your pendrive is lost or stolen.)