Hello, I'm sorry it seems I'm only here about my problems anymore, but school has been driving me crazy.
I have this external hard drive: Acomdata 1TB 7200 RPM, stamped "Apr '09," Model pdhd1000use-72. It connects via either USB 2.0 or eSATA. Given its age and class, I'm guessing SATAI (1.5gbps). Whenever I try to connect it via eSATA, Windows does not recognize it at all. I've searched for new hardware in Device Manager, but nothing. I've restarted the computer with the drive still on and plugged in, but nothing. Plugged in via USB 2.0, though, it works perfectly fine just as it should.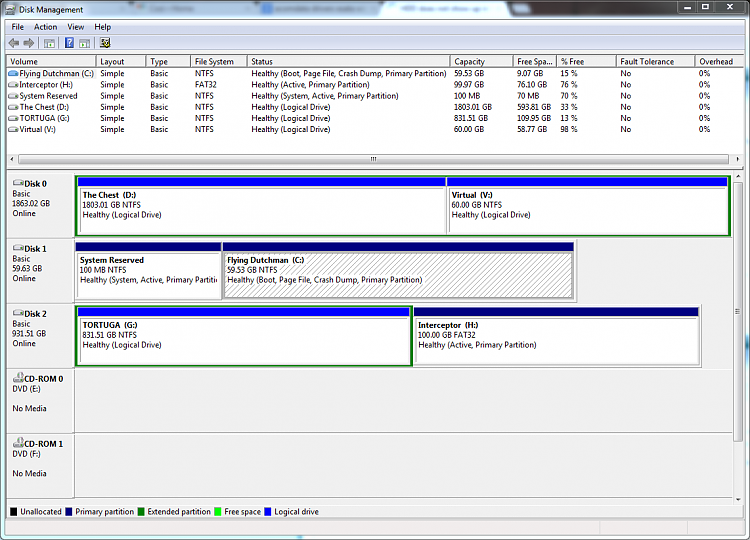 where Tortuga & Interceptor partitions belong to the external hard drive in question
I have checked in my BIOS, and the SATA speed/generation has 3 settings: Auto, 3gbps, or 6gbps. It is set on Auto. However, I have just recently done some redecorating inside my rig and replace all of my SATA cables with UV green SATAIII (6gbps) cables. Still, this only possibly accounts for why the drive will not show up when plugged into my HAF X's front eSATA jack. I have also tried plugging it directly into the mobo's eSATA port, but still nothing.
This Windows is a recent new install. I had gone a bit slack with my desktop backups, but it did work up til this installation. Is there something I missed or switched by accident? Any other hardware suggestions? Could the external's eSATA port have died?
This is getting really aggravating, especially with the size and volume of files I back up with it. Even eSATA at 1.5gbps is lightning compared to waiting for USB 2.0...