Try this. If it is confusing to you, please ask. Connect your Samsung drive to port 0 (or 1) however Gigabyte lists them, connect your SSD to port 1 (or 2). Go into bios and see if your SSD is recognized. Set optimized defaults, set your ram frequency, timings and voltage, set the sata mode to AHCI, set the boot order to DVD drive as 1st boot device and the Samsung to second boot device, save and exit. Do not have the installation DVD installed at this time. Boot into your current hard drive. Once loaded, click the start button, in the search box type cmd, in the cmd entry that appears, right click it and select 'run as administrator', you will have to give admin permission. In the window that appears type these and press enter after each.
diskpart (wait for the window to respond diskpart)
list disk (you should see your Samsung drive as disk 0 and the SSD as disk 1) If it lists your SSD as another number use that number instead of the one I give you.
select disk 1 (it will reply disk 1 is the selected disk)
clean ( it will notify you when done, takes a few seconds)
create partition primary align=1024 ( it will say the partition was created)
select partition 1
format fs=ntfs quick (it will take a few seconds, but wait it will tell you it is finished)
active
next type exit and press enter, do this twice and you will be back at the desktop. Put the installation drive into the DVD.
Shut the computer down, remove the data cable from the ssd and Samsung drive. Connect the data cable from the Samsung drive to the SSD. Leave the Samsung disconnected. Restart the computer. Select custom install and install to the SSD.
The diskpart commands I gave you will look like this. I just have more disks connected than you will.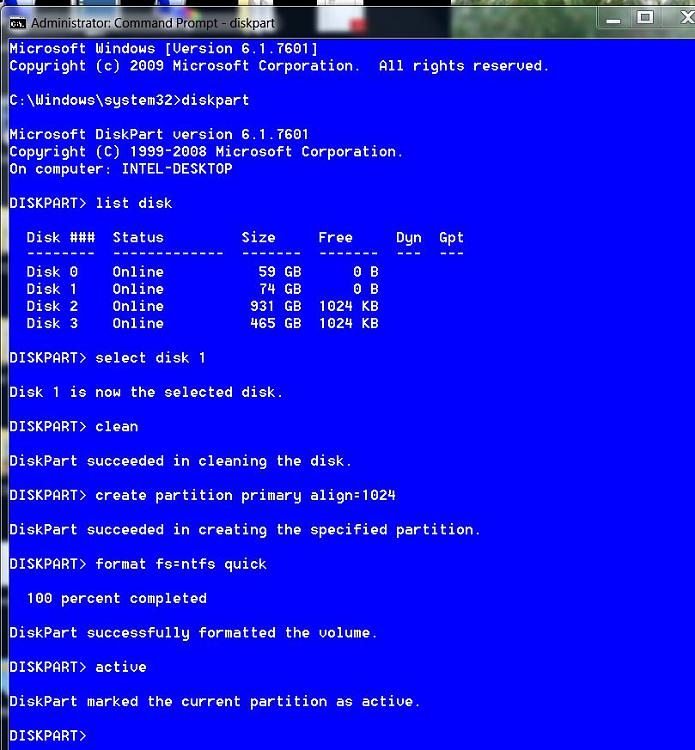 Let us know how that works