Hi yugzyugz,
Extract the contents of the downloaded Bios Zip file into a folder.
Run the launcher.exe. You have only two options. 1.CD-ROM installation and 2. Install from Windows. Install from Windows as indicated in the instructions itself, is riskier than installing from the CD-ROM.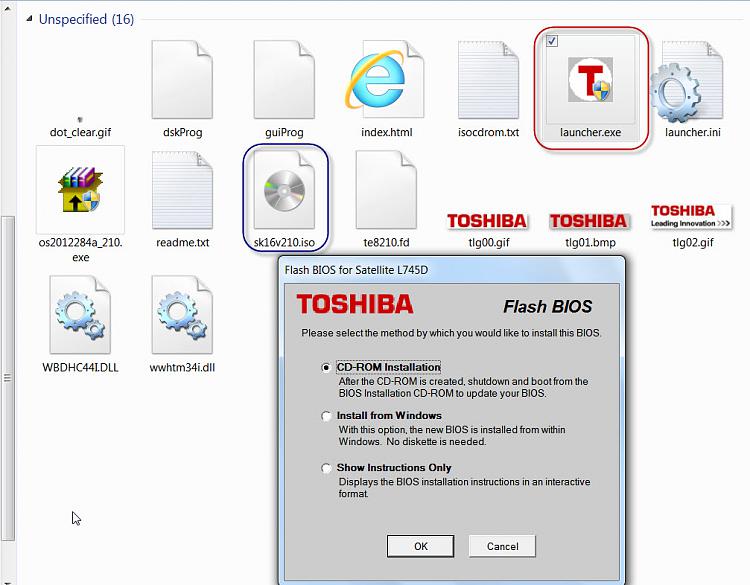 Load a blank CD-RW into your optical drive, select the Radio button "CD-ROM Installation" and click on OK.
This will bring the native Windows Disk Image Burner ready to burn the bootable ISO sk16v210.iso. Check "Verify Disk after burning" and click on "Burn"
"Once you create the bootable CD-ROM, simply boot your computer from the
resulting CD. To boot from CD, you can either hold down the "C" key while
you turn your computer on, or you can use HWSetup to change the boot priority
so the CD drive boots before the HDD."
Now it should be possible to create bootable flash drive with the same bootable ISO sk16v210.iso. ( In fact I created one using RUFUS -
Rufus - Create bootable USB drives
)
However as a matter of abundant caution - not very sure how the pendrive image will unfold - I would prefer to stick to the manufacturer's instruction to the dot and run the bios flashing from the CDROM drive.
( It is a different story if it were an executable DOS file. Then without hesitation I would have made a bootable DOS pendrive, moved the executable DOS file into the pendrive, and run it under DOS.)
NOTE:
Read all the instructions in the Readme file. Ensure that there is no interruption during the flashing process.