What is the problem with booting the HD in the notebook it came out of? Let's start there. Everything possible is here for
Troubleshooting Windows 7 Failure to Start
including tools to copy out your files and clean reinstall or run Factory Recovery.
To move HD to another PC, it cannot be expected to boot due to the difference in hardware, HID and SID. But you can adjust this by booting free
Paragon Adaptive Restore CD.
Boot the CD, point it at the OS on the new HD and run PNP Restore, providing via CD or flash stick any drivers it requests for the HD from the laptop's Support Downloads webpage chipset download.
Hello i tried to
use the Bootrec.exe tool
but after running the tool i cannot access my C: and he only found a X: ( the boot disc ) so i cannot access the C: drive. i tried to open the laptop cover and check if everything is ok and it seems its well connected like it should. when i tried to install WIN 7 it saids,
Windows cannot be installed to the disk. This computer's hardware may not support booting to the disk. Ensure that the disk's controller is enables in the computer's BIOS menu. ( i cannot access the bios because its PASSWORD protected, but why the NOTEBOOK startsup with this disk? The disk i use is a BOOTABLE DISK. )
If i tried to create a NEW partition it saids,
Failed to create a new partition on the selected unused space. [Error: 0x8007045d].
I hope you guys can help me.
EDIT: Even downloading Testdisk @
http://www.cgsecurity.org/wiki/TestDisk
Iam not able to Delete the partition ( it saids Write error: Can't clear partition table. )
I tried to analyse the disk and it saids, Partition: Read error.
There is the command prop images,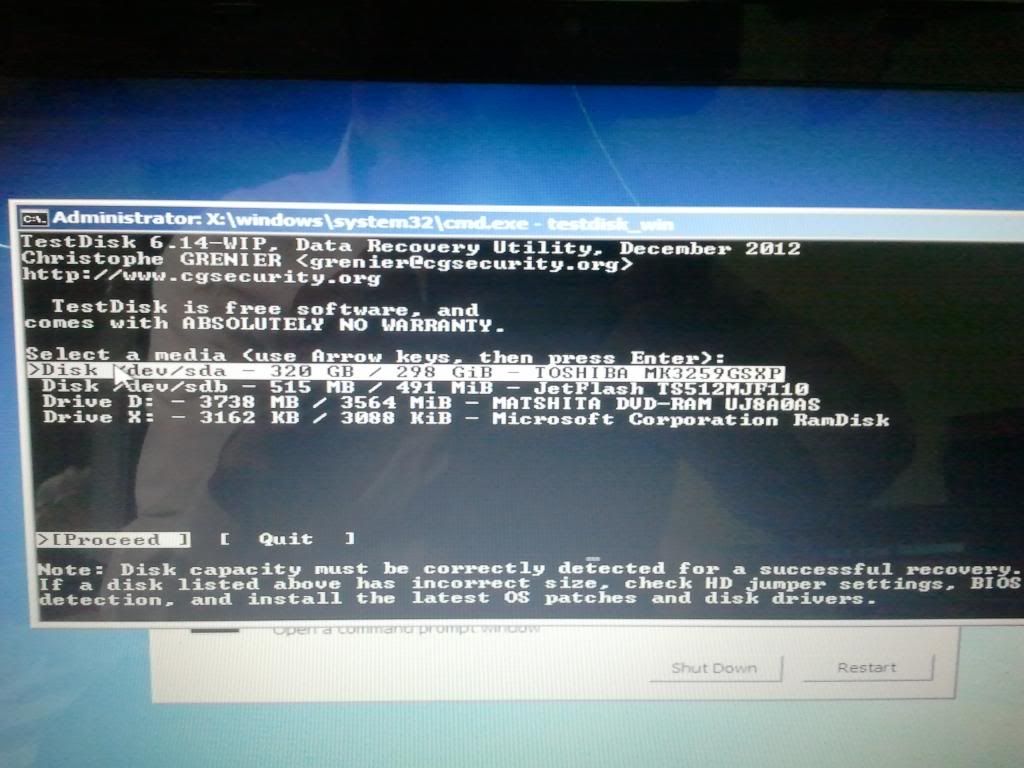 after that i see this list but what should i do?
Note
is my USB

I clicked [Intel] but all the options doesnt work for me. Every time i get the same error, Partition: Read error. OR cant find partition.
Okay I istalled the Minitool Partition Wizard Home Edidtion v7.7 on my USB and i can run the program. HE FOUND THE TOSHIBA DISK but it saids ( BAD DISK ) iam currently running a Partition Recovery Wizard so i hope it will find some errors.