Hi,
My problem is as follows:
I installed Windows 7 onto an SSD and used this for about 7 months - everthing working well. I recently decided that I needed more storage space so I added on a WD 1TB internal HDD and put Windows 7 on this drive as well.
So now when I boot up I get a choice of 2 Windows 7 OS to choose from - one on the SSD and one on the new HDD. I decided that I didn't want to have the SSD drive anymore (too small) so I removed it from the computer - thinking (apparently naively) that the other HDD would work fine.
This was not the case. With the SSD removed I cannot boot up the computer - apparently the other Windows 7 OS on the HDD does not contain any bootmgr info to boot up with. It seems that only the SSD has the boot info?
I had to reinstall the SSD back into the computer in order to be able to boot to the other Windows 7 OS on the HDD.
So my question is - how do I remove the SSD and still be able to boot to the other internal HDD Windows 7 OS?
I have included a picture of my HDs from Computer Management (there are also 2 data drives on the system.
Appreciate any insight into this problem.
I also noted that in Device Manager it shows the WD 1TB as a SCSI HD - but its not?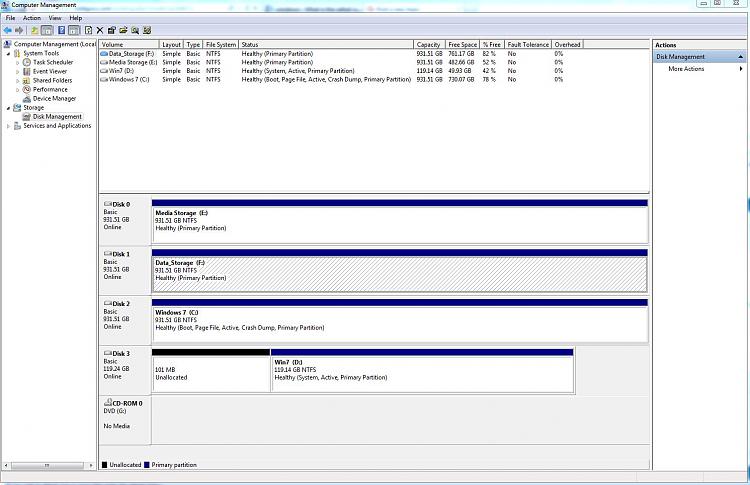 Thanks