Have you looked inside the PC to see if there is a physical TPM module installed? There is a picture of one in the Wiki page.

You might also try a ClearCMOS procedure, just to see if there is something not enumerating correctly during the boot.

Also try disconnecting some devices (External USB devices, the CD drive, mouse) and boot without them to see if any of those things are holding things up.
that was a nice idea to clearCMOS. I disconnect mouse/dvd drive/hard drive and then turn ON pc. but booting is same as earlier, then I decided try to remove RAMs or changing ram to random slots, and there is coming strange, complicated and real headache for me. this was very annoying. ram thing take couple of hours.
I have 3x2gb ddr3 PC3-10600 (1333mhz bus) ram. 2 kingston and 1 samsung.
when I remove 1 ram and other 2 ram is placed in black and blue slot. this could let the pc to "single channel" ram mode. and in single channel mode, the TPM error message is not appears.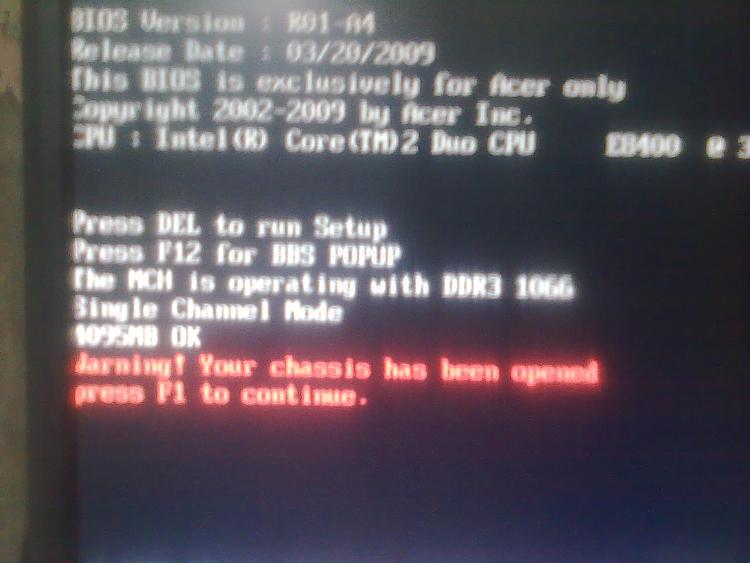 only "checking NVRAM" message stayed on whole screen for atleast 1 minute(its first time only after the ram changing to other slot), and without hard disk my pc not shows the acer logo 2 time, only 1 time and next message is "no boot device". I was very happy to see that and think the problem is solved. but when I connect hdd and other things (without 3rd ram) cover up the pc and start it, then strange things happens, first the pc stuck at acer logo and hang, not any key works numpad led too on pressing numpad.
turn off and turn on again then a windows message is appear which says boot fail, winlogon.exe corrupt or missing or something like that, (I don't remember this error exactly but I m sure it was windows boot error)
turn off and on again and go to bios, and without any plan and unconsciously , I turn this "Reset configuration data" option to YES (because its description is about NVRAM).

.
many complications is happening, in single channel ram mode. why the hell is boot is perfect without hard disk and with hard disk its 2 time..??
boot error appears, but then its gone..??
stuck on acer, but later its not..??
but one thing I m certainly sure that its RAM stick problem or RAM slot problem..
what do you say..!
(I m very sorry for my bad english, and sorry for not the tempo on my lines and paragraphs)