I cannot believe the trouble you've gone to on my behalf, UI, and I truly appreciate it.
Rarely have I seen such tact - I never take offence at being corrected, but if I did I wouldn't in your case - if you see what I mean

I never know what to call it: "a video stream embedded in a web page" is a bit of a mouthful, but I suppose it's the best that can be done.
My post was very abbreviated because I didn't want to frighten off potential advisers with all my nitty-gritties. The fact is, I monitor/record that nest 24/7 during the breeding season (nearly over now) and extract "activity" in clips, cutting and joining as appropriate; then I upload to YouTube and post on the relevant forum.
This is what I must end up with: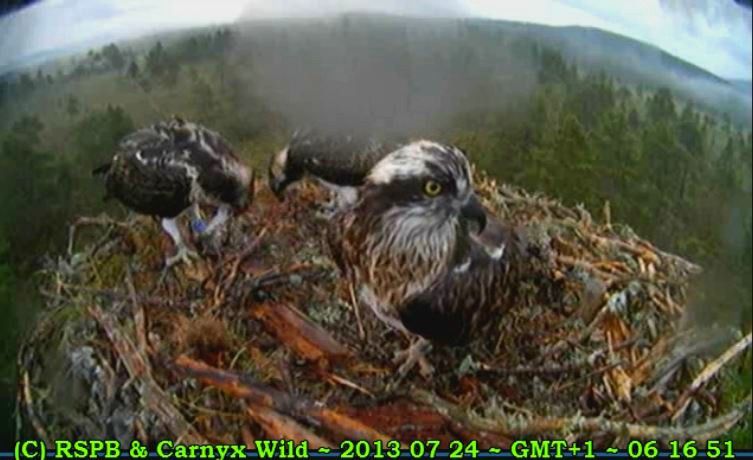 (The cloud on the lens is chick-poo.)
Copyright acknowledgements and date/time must be "embedded" because I like to do things
right.
If I present a video depicting certain activity, it is gospel that it happened at the time stated on the video. I screen-capture with Debut Video Capture because that program allows me to add the text and date/time down to the second. Also, I used to have to deal with recordings up to 10 hours long, you can imagine how valuable the time-stamp is when doing that. (I recently realised that Debut will stop/restart at chosen intervals, so now my max is 2 hours, but even then I resent the 4 seconds lost during the stop/restart process.)
VLC cannot record date/time, I have investigated it with the developers, and on their and their wiki's advice wrote some code (can't believe I did that!) but it turned out that when the recording was played it displayed the
current
date/time, not the date/time that the recording was made. A kind forum member with more experience than I tried to help but had to give up.
On the 2nd I asked on the VideoLan forum if VLC could refresh a stream periodically but have had no answer. That is one complex program and I am not software-literate.
The stream displayed on the RSPB's site does
not
, as yet, have to be manually restarted every so-many minutes but the flaky stream does go down, that's why I use Opera's auto-refresh (say) every 20 minutes. Did you know that Opera's auto-refresh, unlike any other add-on for FF or Chrome that I've tried, after the refresh has completed, replays the video from before the refresh took place - so I can cut out the blank and any duplicated action and join it seamlessly (if I'm on form

but with a tiny glitch if I'm not)? But now that I'm using the RSPB site instead of the Carnyx one, I'm stuck with the VLC cone for too long before the stream reappears - that's what led to my original question "how can I associate it with WMP?".
My VLC 2.0.8 has just crashed and I cannot reopen it, all I get is the "let's send crash report" box, which I OK'd the first time but it hasn't listened. What I was going to do was show you how I could play the stream in VLC, superimpose DS Clock on it, and screen-capture that. But VLC doesn't refresh the stream

Also, DS Clock won't allow me to type D or M, it shows them as numbers of course. So I can't show CARNYX WILD or GMT (I use UTC, yuk, when taking screenshots of various other subjects).
I'm terribly sorry for taking up your time with this confusion, you can see I did try to be sparing initially

Would it be possible to PM you video? I'm asking in advance of actually needing to, just to know where I stand.
Thank you again, very much. Got birds on the nest, must fly.