Important!
Before you do this; Make a
backup of your registry
also make a
System Restore Point - Create
Use this tutorial as a guide:
Using the Registry Editor in Windows 7
Read through it to accustom yourself to the procedures, but we will only be dealing with the part down to figure 2.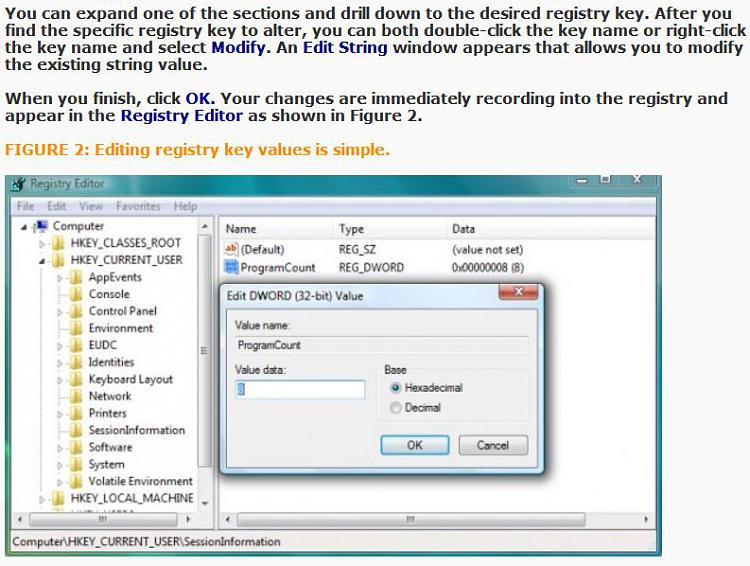 Quote:
You can easily access the Registry Editor by typing regedit in the Start Menu's Search box.
You should see regedit.exe at the top listed under Programs (1). You can either click on Open or Run as Administrator, the choice is yours.
Quote:
The User Account Control asks you to authorize access by clicking Continue. The Registry Editor appears with an expanded menu of the five registry key sections:

Quote:
You can expand one of the sections and drill down to the desired registry key.
In your case:
HKEY_CURRENT_USER\Software\Microsoft\Windows\CurrentVersion\Policies\Explorer
Quote:
After you find the specific registry key to alter, you can both double-click the key name or right-click the key name and select Modify. An Edit String window appears that allows you to modify the existing string value.
In the edit string window that does appear you should see:
Value Name: NoDriveTypeAutoRun and,
"dd" highlighted in the Value Data.
Leave the Base, Hexadecimal selected as is.
Type 91, you will see the "dd" change to 91.
Click on OK and you will see the Data Value in the right pane change from 0x000000dd (221) to 0x00000091 (145).
Close the registry editor.
Some users mention that at this point you should restart your machine, I would.
Test to see if the autorun function for the optical drive is working.
Screenshot and quotes are sourced from:
Using the Registry Editor in Windows 7
Remember, I'm pulling for you. We're all in this together.
Red Green
Steve