I think I see what you mean, everything I blocked is bolder than the rest of the word. Some words only have one darkened (bolder) letter.
This is different than the newsletter page you have, but here's what I'm seeing, everything looks even to me: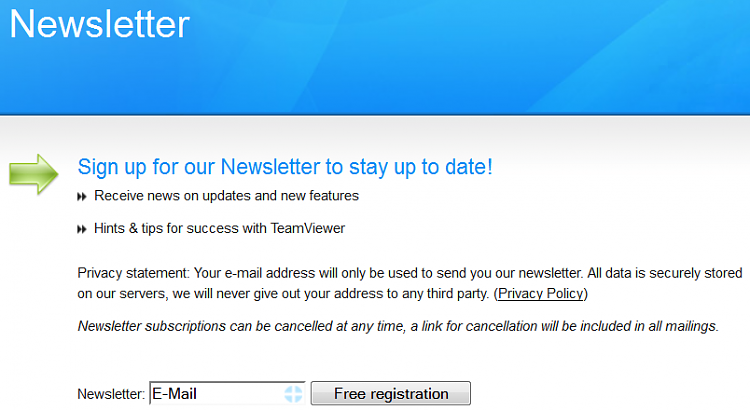 I'm thinking; You upgraded from XP to 7 and you had this problem even when you had XP installed.
From your thread starter, my reasoning is in blue:
Quote:
Certain fonts on my Windows 7 SP1 computer have been messed up for a while. The fonts seem to be too large and bolded.

That would explain this, Application installers would use system fonts.
This is not a system-wide issue, only certain programs exhibit it. For some reason, application installers are where the problem most commonly asserts itself.

This started happening when I transferred my user account from Windows XP last year, so maybe it has something to do with that. I recall having this problem on XP too.
It could be you had a corrupted XP user account and transferred the problem over to the upgrade.

Can you look at my example and possibly provide a solution or insight as to the source of the problem? Thanks!
There is an outside chance you may have an ailing Video display (Monitor) and/or video card. Using an older XP machine would indicate older equipment.
Have you ever tried to adjust your video display settings or upgraded your video card drivers?
This could also be a problem if you're using the Aero display feature in 7 which XP didn't have, but you did say it was a problem in XP to. Use this Tutorial to check:
Color Bit Depth - Display Settings
Notice the other tutorials at the bottom of the page they may help.
Your system specs are incomplete so I can't help much in that area until you fill them out. Best I can offer for now is to try an adjust the monitor settings. If you accepted the settings as they were while with XP, your XP user account transferred those settings over to the 7 OS.
If you want to start with a new User Account:
User Account - Create
If you're having problems adjusting your monitor or you don't have the manual anymore, fill in your specs and we'll see if we can find one for you. Include the video card (graphics card) your using.