OK, we have hit the gold mine, thanks to Slarty.(.( I don't want Slarty to retire from this thread. I want him to strike me on my knuckles if I go blatantly wrong as we proceed and the tinkerer ICit2.....LOL too :))
Now back to business. The real work starts now.
Our intention is to run Partition Wizard from a bootable pendrive and try our luck to resurrect the hard drive. ( I have to refresh myself by going back on this thread since too many things have gone in various threads that I may get easily confused but I will refresh later.)
Now have an empty pendrive ready. Backup all data in it elsewhere for it will be lost now.
Download Partition Wizard Home Edition bootable CD version 48.34MB from
Free download Magic Partition Manager Software, partition magic alternative, free partition magic, partition magic Windows 7 and server partition software - Partition Wizard Online
Download Rufus 1.4.9 (615KB) from
Rufus - Create bootable USB drives the easy way
By default these will be downloaded into the Downloads folder.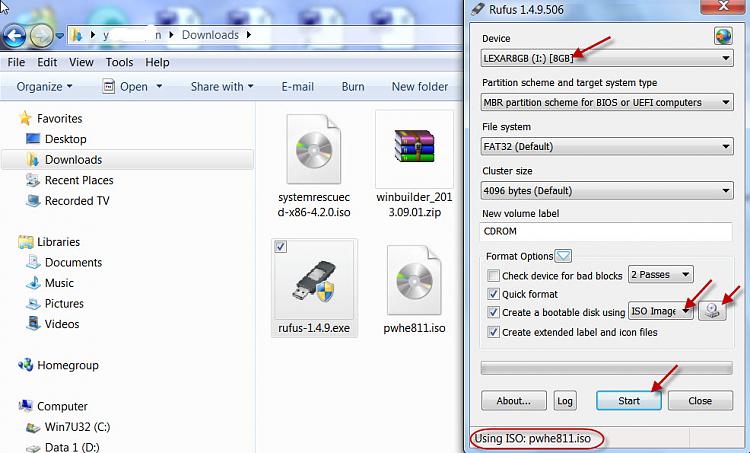 Plug in your empty pendrive and click on Rufus to run. Check that your correct pendrive is shown on it.
Leave most of the settings to default and with "Create a bootable disk using" select "ISO Image" from the drop down arrow and then click on the drive icon next to it.
In the ensuing dialog box, navigate to the Downloads folder and click on the pwhe811.iso to select it.
Check "Using ISO: pwhe811.iso" appears at the bottom of the Rufus Screen.
Click on Start. Don't relax.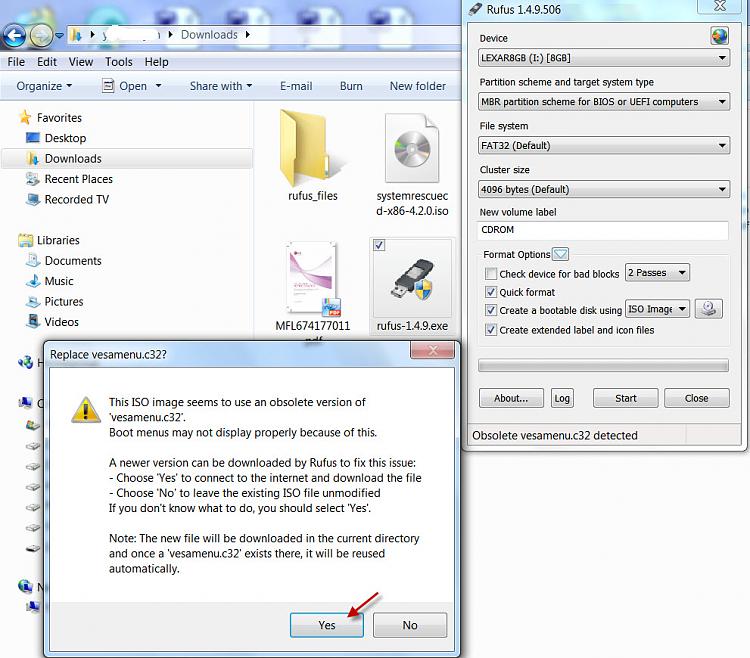 In the ensuing dialog box, click on Yes. Rufus will automatically download the new vesamenu and use it to create the bootable pendrive.
Wait for it to complete writing the bootable ISO to the pendrive.
When completed close Rufus, safely remove the pendrive.
Now you are ready to boot from the pendrive and run PW.
I hope you have already plugged in your HDD back into where it was as an internal drive.
Run PW from Windows. If Windows fumbles and tumbles as before, plug in the pendrive, reboot, select USB in the onetime bootmenu and allow Partition Wizard to boot.
You may do it tom morning after your sleep.