Okay so yesterday I was making music and had just finished when my mouse started to be really sluggish. I turned the computer off and then back on.
I now get the message:
"USB device over current status detected"
Here's an image: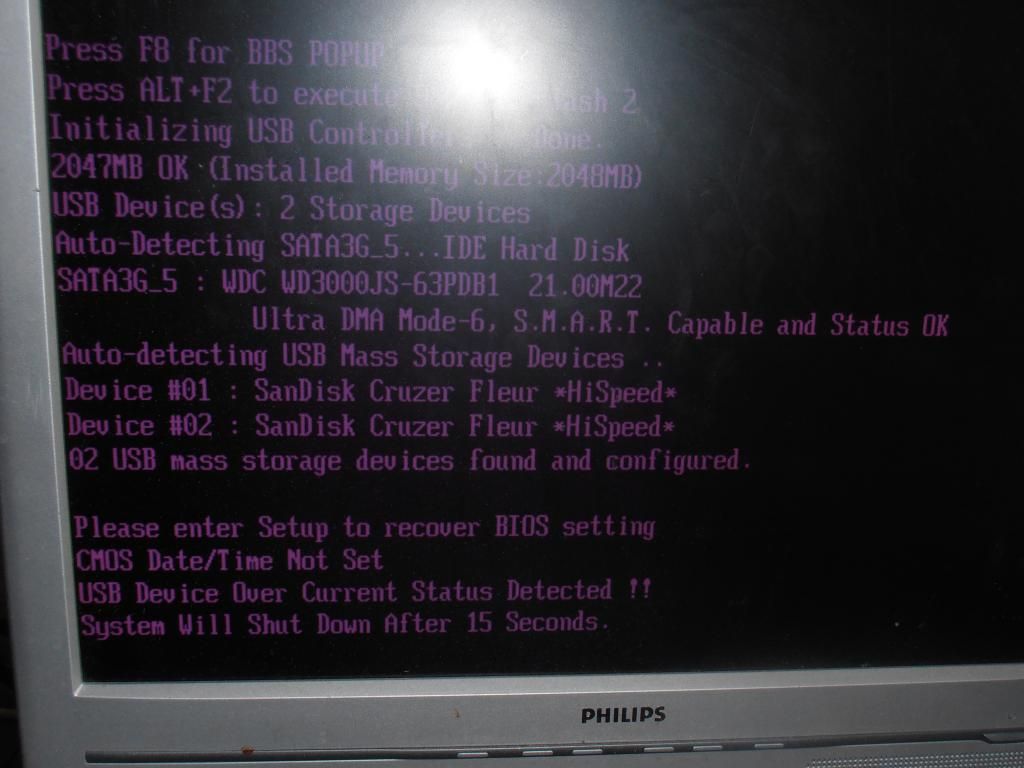 Things that I have tried in order to fix things:
1. I've tried clearing the CMOS by removing the battery and also the jumper for about 2-3 minutes with no power to the motherboard.
2. Updated/flashed the BIOS to the most current version.
3. Re-seated things such as RAM, processor, hard drives.
4. The cables from the front USB ports aren't even connected as I never really used them anyway and they sometimes caused problems because my gf accidentally damaged the port.
5. Tried a different CMOS battery.
I have consired re-installing Windows as, for about 10 minutes or so, I kept getting an error message saying that a file was missing or corrupt.
If I could get to the BIOS it'd be a start but it only allows me to use the EZ Flash 2 by pressing ALT+F2. F8 doesn't work, TAB doesn't work and neither does DEL.
My motherboard is an Asus M5A78L-M USB3. Is there anything else that I could try? I don't give up easily and if re-installing Windows is an option then I'll do it but I'm not thinking that this is the issue here.
Any help would be great!
****EDIT****
Okay I left the BIOS battery out for half an hour as well as the jumper on different pins. I'm able to access the BIOS again now as it thankfully seems to have reset itself. Sadly it looks as though I'll have to re-install Windows as it informs me that it's missing a file -.-