Yes, why PW is refusing to assign a drive letter and make it visible in Windows is still a mystery.
When you have finished copying the partition to another drive and satisfied that you have all data and breath easy :), we shall try and see whether that 3TB external drive can be recovered as it is.
You would initialise the drive after backing up some important sectors with Bootice .
The common and mistaken perception is that initialisation will destroy all data. I very often see even learned Gurus saying " No, No do not initialise. You will be doomed and lose all your data"
Wrong. Initialisation only prepares the drive and makes it visible to Windows Disk Management, ready for creating volumes and then formatting. - that is your drive from being "Unknown" and "Unallocated" will be brought "online" but still "Unallocated"(in the case of a fully wiped out drive being initialised as a GPT drive.) It does not write anything to Sector 264192 or thereafter where the first partition begins and data exists (if already existing)
In the case of a GPT drive initialising writes the Protective MBR to LBA (sector) 0, GPT Header to LBA 1,and part of the Partition table,the 128MB MSR, to LBA2 and nothing more.
(The first volume when created will be at LBA 264192 - you can see it in the PRW screenshot in your first post. (34 is the start of 128MB MSR))
The following screenshot is my 750GB external HDD initialised as GPT - just initialised, I haven't created any volume yet.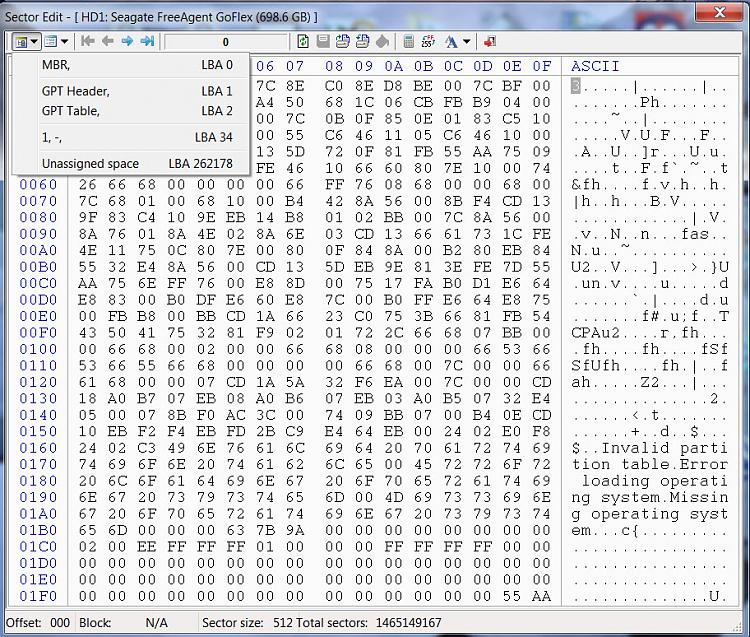 So let us know when you have backed up all data in the drive and then we shall backup the relevant sectors as it exists now - just for safety so that we can restore back should we need it - and then let Windows to initialise the drive.
I have to runout now.