Hi!
Today I got a really strange problem! I know we have great experts here so I would like to ask you guys, what do you think?
I got a 32 GB flashdrive (Corsair Voyager USB 3.0) about a year or two old. No problems so far. Until now.
Suddenly (from one day to the another) it started to give me an error message: "Drive is write protected".
I'm not able to save files anymore to it. But I can still access it and I can see the directory and file list.
This doesn't look right so I started to get data off of it immediately.
Here's the result. This is insane. Look at the numbers! It's showing I have a 293 GB folder on a 32 GB flashdrive! (that folder shouldn't be larger than 5 GB).
Check out this picture. I tried to rightclick, properties, and then do disk repair (chkdsk), it cannot access it. I tried it on different computers (also Windows 7 and I even tried it on a macbook), its the same. They all say write protected.
Help me! What do I do now? I need those files + I need this drive to get back working. It might still have warranty, but I'm not sure. But I'm afraid they would delete my files.
Edit: wow check out pic 2 too!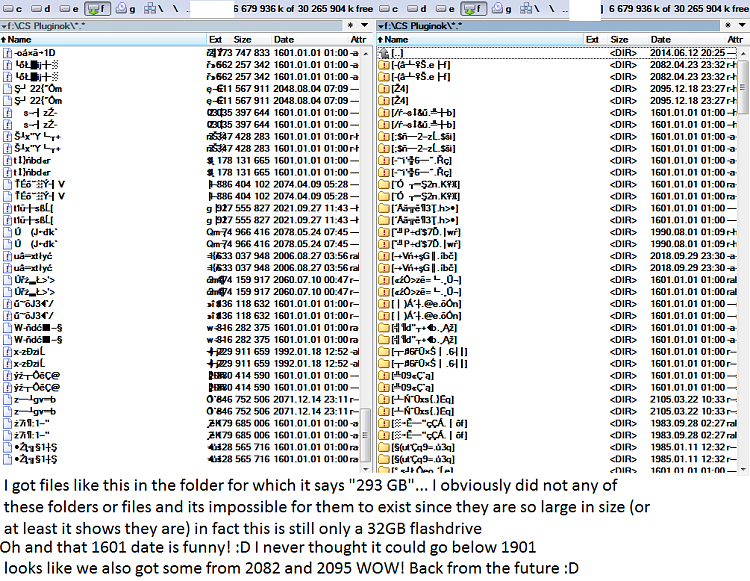 (keywords for google) > flash drive problem fail readonly read only write protected cant write can't unable to save read backup back up copy size pen thumb key usb usb3 3.0 how to recover data from flash drive