EDIT: This is in response to your post #3 which I saw after I posted what is seen below. In your case sectors 0, 1, 2 , n ( the last sector which is the backup of GPT Header at sector 1 but not an exact replica of it) and n-32 ( which is the backup of partition table at sector 2 and an exact replica of it byte by byte) may be in tact and is not the cause for your drive turning RAW. So we are not going to do anything with bootice for now.
In seventy two hours from now, I will be on the flight to USA and thereafter for the next 10 days on high seas on a cruise to South Caribbean.
https://www.sevenforums.com/chillout-room/221334-my-itinerary-vacation-trip-3.html#post3018557
So perhaps you may have to wait in case other members like Slartybart, Anshad Edavana, Kaktussoft , who are the masters in this art come into and help you.
I shall however start the ball rolling and try as much as I can within the next 72 hours.
1. Post a screenshot of how your external drive appears in Windows Disk Management.( Please plug out any other USB Storage device/s)
Disk Management - Post a Screen Capture Image
Just an example. Disk 1 is my two partition external GPT drive that I had turned RAW.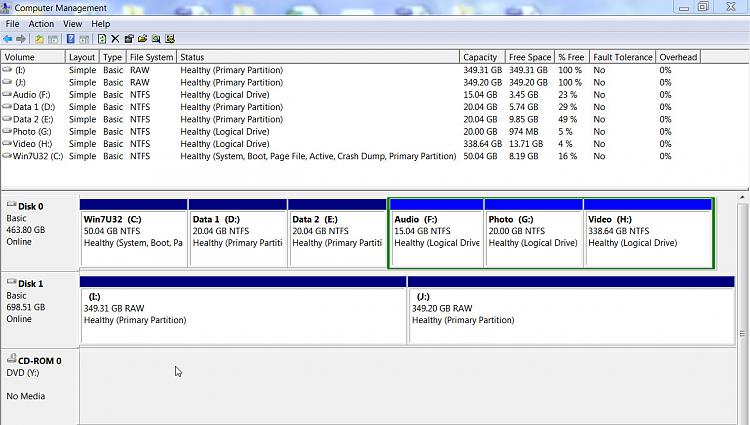 Let us see how your 4TB drive looks like.
2. Any idea on how many GBs of data is there on that drive? And what file formats in it that you want to recover - if data recovery becomes inevitable?
3. Please download and intall MiniTools Partition Wizard edition 9.0
Free download Magic Partition Manager Software, partition magic alternative, free partition magic, partition magic Windows 7 and server partition software - Partition Wizard Online
. Run it and post a screenshot with your 4TB external drive connected.
Just an example: This is how my GPT drive that had turned RAW - rather I made it turn RAW - looks like.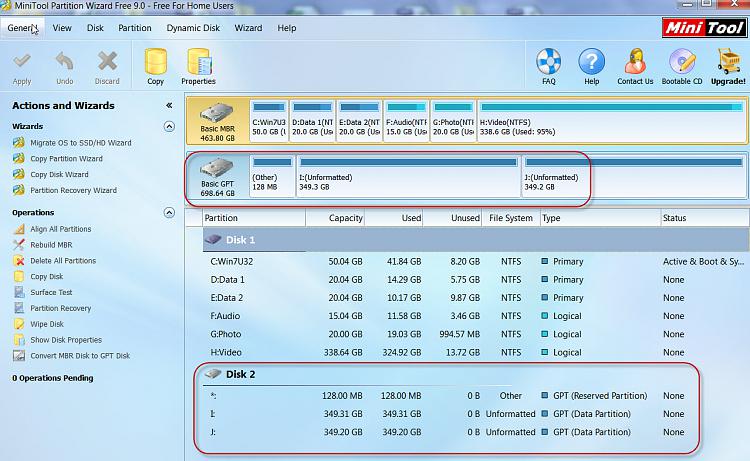 Now post your screenshot.
( Your screenshots may look different depending upon what made it RAW. Nevertheless it may give a clue as to what happened and research further.)
Now go ahead with Partition Recovery.
Click on Partition Recovery Wizard on the left Pane > Next > Select your external drive > Next > Full Disk > Next > Quick Scan > Next
Even as the Quick Scan is in progress, do a screen capture and post the screenshot.
Example: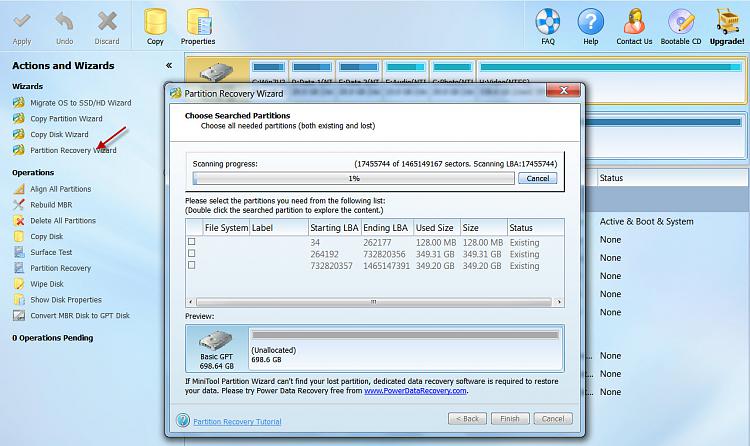 Even as the Quick Scan is in progress, post the above three screenshots and wait for further instructions.
( Mostly I will be online at that time)
Since the Quick Scan on a 4TB, may take hours, leave it alone and do your other work peeping in once in a while to check the progress.
When Quick scan completes , post the resulting screen showing the partitions.