Hi bigbingo,
I shall limit myself to deleting the 2048GB OEM Partition, formatting the partition and also setting the active partitions Disk 0 D: and Disk 1 E: inactive ( I don't know how it came into being and I have never seen such a large OEM partition.)
Install and run MiniTool Partititon Wizard Free Edition 9
Best Free Partition Manager for Windows| MiniTool Partition Wizard Free
Launch application. Select the 2048GB OEM Partition by left clicking on it and then right click on it. In the right click Menu click on " delete" and then "Apply" This should delete the partition. Once deletion is completed right click on the same Partition and then " Format" as NTFS, "Apply"
(If by chance "Delete" is greyed out, click on "Change Partition Type ID". If in the ensuing Window "Please select predefined ID from list" shows anything other than 0x07 NTFS, from the drop down arrow select 0x07 NTFS and click on "Yes" > "Apply" Now you should be able to delete and format it as explained before.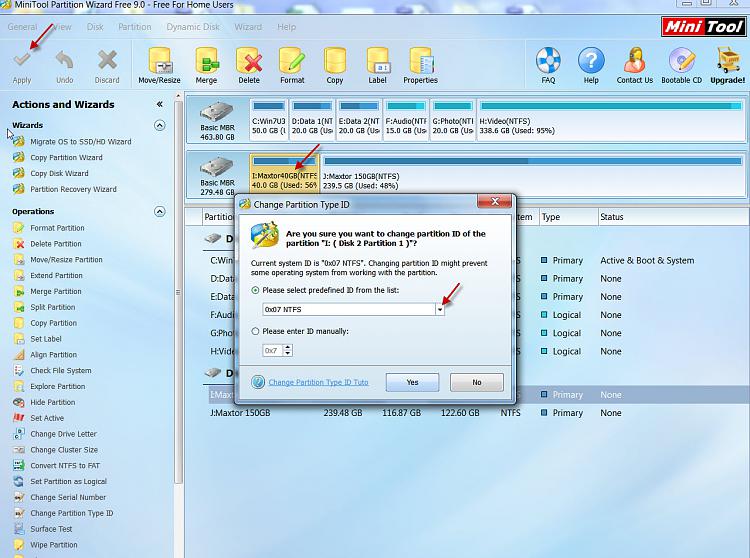 )
To set the Active Partitions inactive:
Right click on the Data and Video Partitions > Set Inactive > Yes > Apply.
Note: Make sure you do not do any of the above on your system drive with the 100MB System reserved and C: partitions
.
I shall leave it to other experts on making the System drive Disk 0. I am a "confused Confucious" on it.