.......I'm fine with that but I must tell you that I run a company and today I have 2 appointments that require me to leave the office so please be patient as it may take me some time to reply. Probably the best thing to do to save time would be to give me 3 or 4 instructions at the same time so I can move things forward faster....
Before you hit on testdisk_win.exe (The generic Windows version and not the Windows 64bit version)
Reboot your PC. Plugin only your 1TB external drive to be recovered as also the formatted empty external drive to which you want to copy the data.
Unlock your 1TB external drive so that TestDisk can access it.
Now run testdisk_win.exe
First Screen -Highlight/Select (using the down arrow key) No log [ENTER]
Second Screen: You should see three disks. First one will be your System disk. Second and third will be your external disks. With down arrow key select your external disk to be recovered.( You should be able to identify it with the shown capacity) [ENTER]
Note: Select Disk and not the Drive
Third Screen: Select [Intel] Intel/PC partition (If not already highlighted.)[ENTER]
Fourth Screen: Select [Advanced] Filesystem Utils [ENTER]
Fifth Screen: should show the partition with [BOOT] highlighted [ENTER]
Post a screenshot of the sixth screen.
If I am not there online, to give further instructions press Q repeatedly till you get out of Test Disk. ( Every press of the Q Key will take you to the previous screen and finally out. You can also hit the X at top right to close the TestDisk Window in one click)
You can repeat the steps and proceed further on further instuctions.
Sample screenshot of the sixth screen: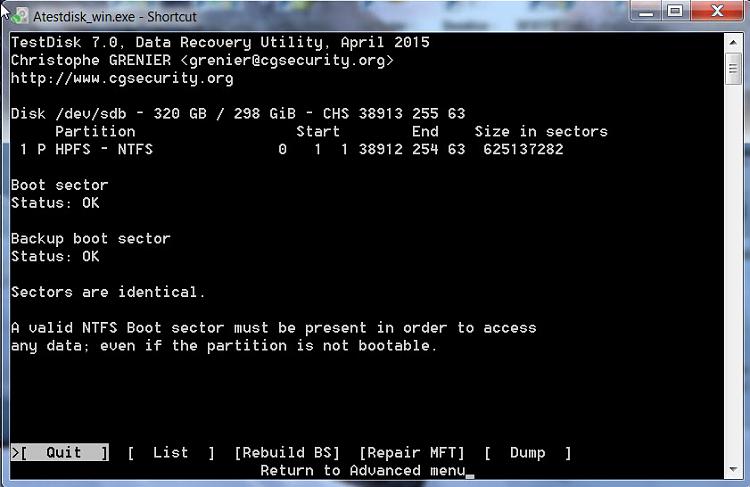 As you can see it will show the status of the NTFS Boot Sector. Our next action will depend upon the status.
Don't get tempted to try any other command therein like Rebuild BS, Repair MFT for the moment.
If you have any doubts while following these instructions, post a screenshot at that stage and Quit Test Disk.