I was trying to create recovery media on a 16GB USB stick for my new laptop but for some reason it wasn't working. I kept trying it and eventually it worked. A while later I came to access my 3TB USB HDD but it wasn't showing up in My Computer. I checked Disk Management and found my 3TB USB HDD had a 32GB RAW partition and a 2.7TB Unallocated Space partition.
So it looks like the recovery media application was, at first, trying to write to my 3TB USB HDD instead of my 16GB USB stick. It obviously didn't write anything to the 3TB USB HDD as the 32gb partition is a RAW format.
I have tried two pieces of partition recovery software, MiniTool Partition Wizard Professional 9.1 and EaseUS Partition Manage 10.8, but they only find loads of little partitions, I was expecting it to find one big 3TB partition.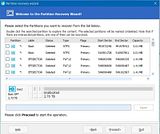 I haven't tried any file recovery software yet. I was hoping I could use partition recovery software to just restore the HDD back to its original state.
Could anyone help me out?