Hello shabuwarrior,
Were you able to recover your data from the Drobo 5D?
I cannot thank you enough for your post as it helped me recover data from my Drobo 5D which showed up as RAW after a careless mistake from my end. In the event this post may help others like me I will state what happened to me and how I managed to recover the data and also what has to be avoided when using a Drobo 5D.
I have 5 x Drobo 5D units connected to a PC for data storage. On this PC I was doing a clean install of Windows 10 and was overwriting the C: drive which is a separate HDD (not the drobos). I accidentally forgot to disconnect all the drobos while installing.
The Drobos showed up when I had to select the partition to install Windows 10. I was in a hurry and I didn't think this would cause any issues and continued with the installation.
I selected the C: drive which had the windows partition earlier and formatted it to clean install.
Windows 10 copied the install files and rebooted.
I was away while the reboot occurred and initial windows startup was happening. (5mins maximum) When I came back I noticed a disk check going on drive G:, I could not cancel it. I noticed it was reading or writing to one of the Drobo 5D units as its disk read / write light was on. I panicked and fearing data corruption, shut down the PC with the power button. I disconnected all the Drobos and re-installed Windows 10 with only the C: connected.
Upon completing the Windows 10 install, I installed Drobo dashboard and only 4 x Drobo 5D units were shown. 1 x Drobo 5D was showing a RAW partition.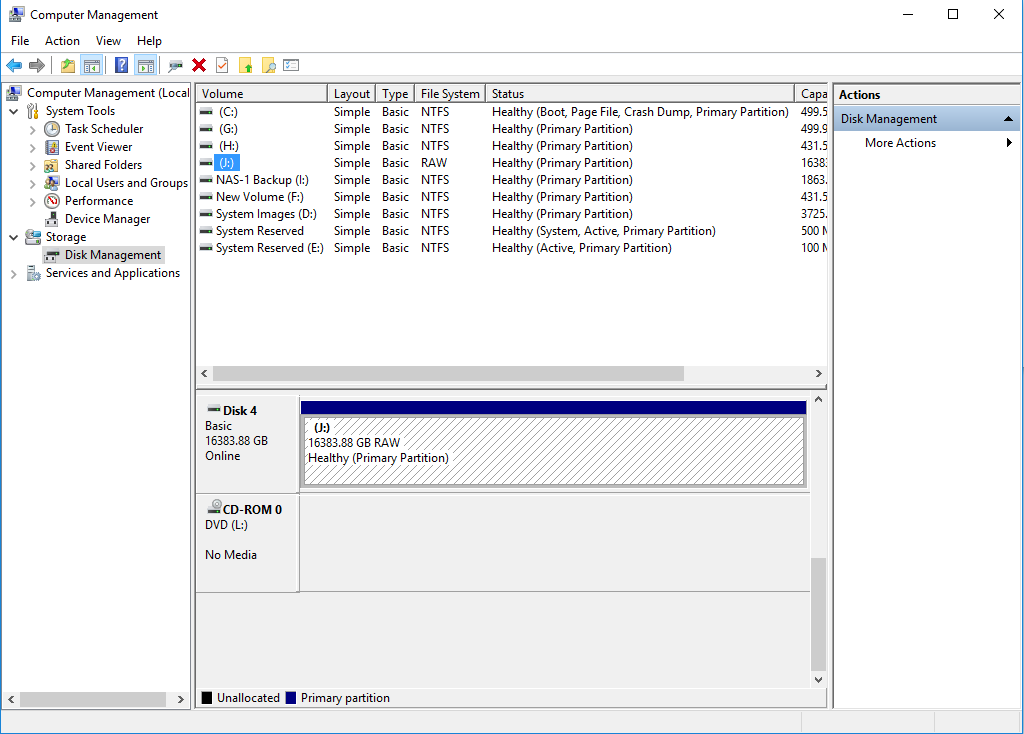 But this was not the Drobo 5D unit which had the read / write light illuminated when I shut the PC down with the power button. I was able to read and verify data fine on all except for 1 x Drobo 5D unit which had the least amount of data with only 3 drives added and in dual disk redundancy mode. All others had 5 drive bays populated with dual disk redundancy mode. My assumption is that the affected Drobo 5D had completed a disk scan and by the time I came back I was witnessing another Drobo 5D being scanned.
Drobo Dashboard status as it showed the Drobo 5D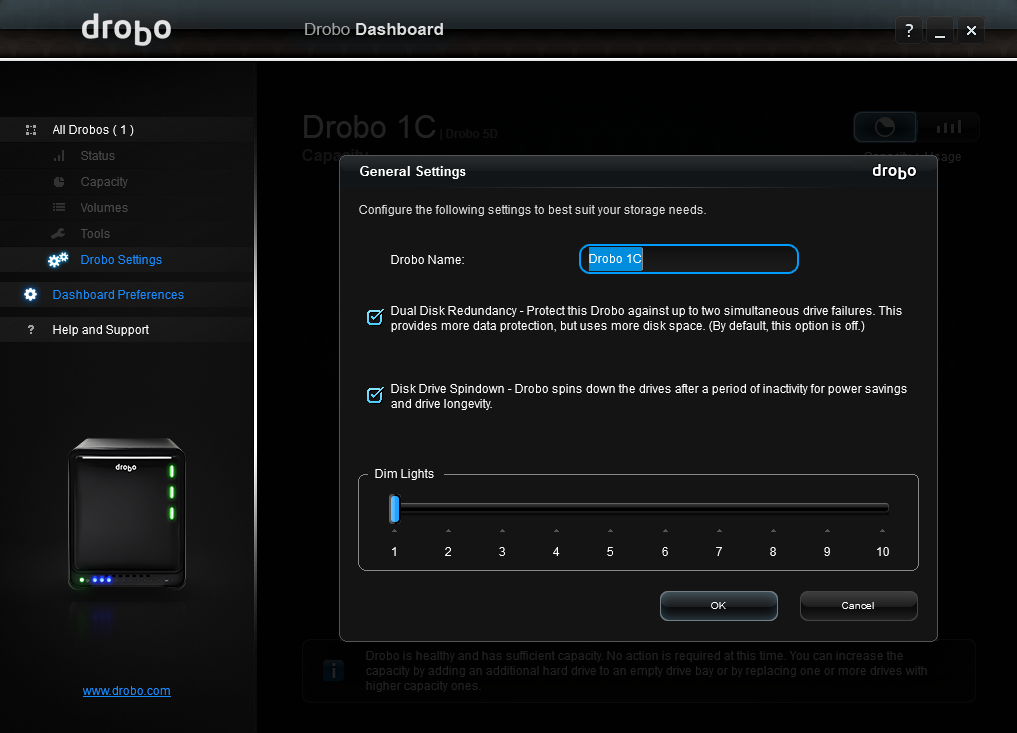 995.65GB of data shown above.
There was about 1TB of data on the drive that I needed badly. I tried testdisk but was not sure on how to go forward as I had not come across the type of screens that I saw with this situation. Then I came across this post. I tried getdataback simple, it managed to find all the directory and file structure but the recovered files were corrupt!! I was fearing the worst thinking that Windows had corrupted the partition and there was no way to recover. I tried Recuva for a brief moment and saw some files that it managed to recover. These were not corrupted but I didn't have the file / directory structure. So this gave me the idea that the data could be recovered.
I then tried the software ZAR you have mentioned. It did the data recovery scan with it and after about 1 hour I was shown the directory structure and files, same as the result I got from getdataback, but the great thing was all files that were recovered now with ZAR were free from corruption!!!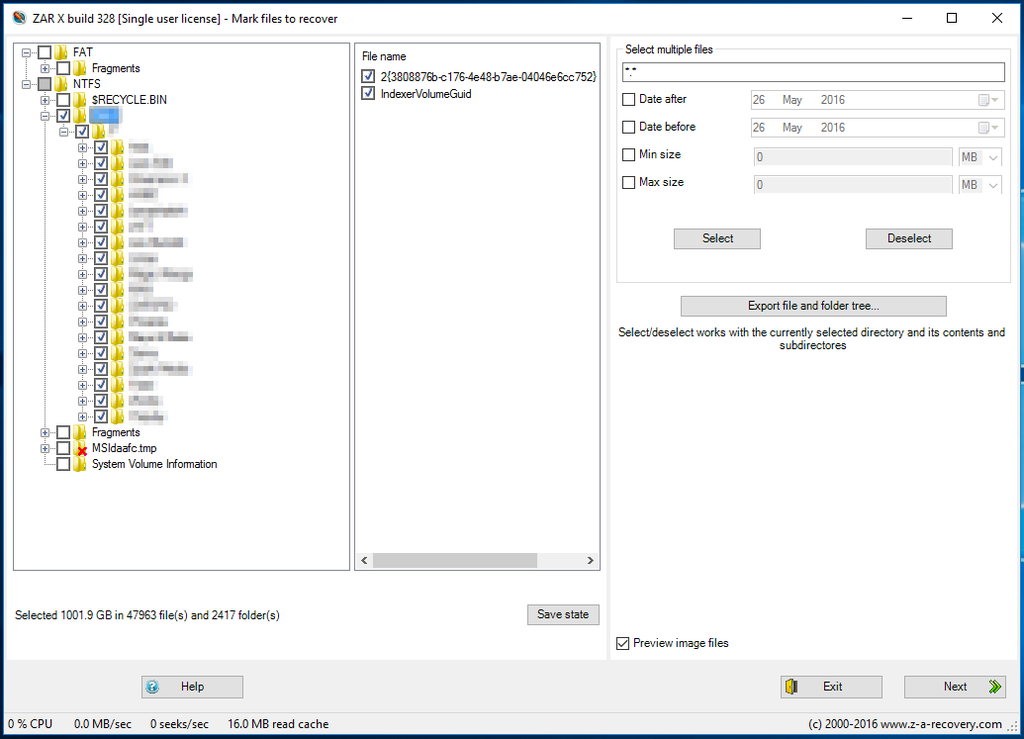 1001.9GB recoverable above. Appears that all the data was detacted by ZAR and is recoverable.
I have not experienced the Drobo 5D having a RAW partition before. My experience was caused by Windows 10 trying to scan the drive for errors and fixing what it thought was faulty. This was however when the Drobos were connected without loading their drivers upon Windows 10 install. On a previous occassion I had this PC do an automatic update on its own from Windows 7 Pro to Windows 10 Pro a few days back and nothing happened to the connected Drobo 5D units. I would assume this was due to Windows 7 having the drobo dashboard installed with proper driver support for the Drobo 5D prior to the upgrade and Windows didn't try to checkdsk the Drobo.
I have read elsewhere that you should disconnect the Drobo should there be an error on it to prevent the drobo accidentally assuming data areas as free space and erasing them. There was a piece of software that I found below by watching a video on youtube which can mount the Drobo volumes by connecting each drive to the system directly without the Drobo enclosure.
Link to the software
ReclaiMe File Recovery Software