1. You must have a pendrive or an external drive with adequate space to copy your files. If it is a pen drive choose a 32GB pendrive so that you can distinguish your source drive ( which you want to copy) -16GB and Destination drive to which you want to copy.
2. Create a folder named Recovery on the Destination drive. You will navigate to this folder to copy from your source drive.
3. Plug in your faulty Flash drive and the Destination drive before you start TestDisk for TestDisk to recognise those when run.
Run TestDisk.
1. [No Log] Enter - We do not need the log file
2. Select your 16 GB Flash. [Proceed] highlighted Press Enter.
Note:
Select Disk and not drive with the drive letter.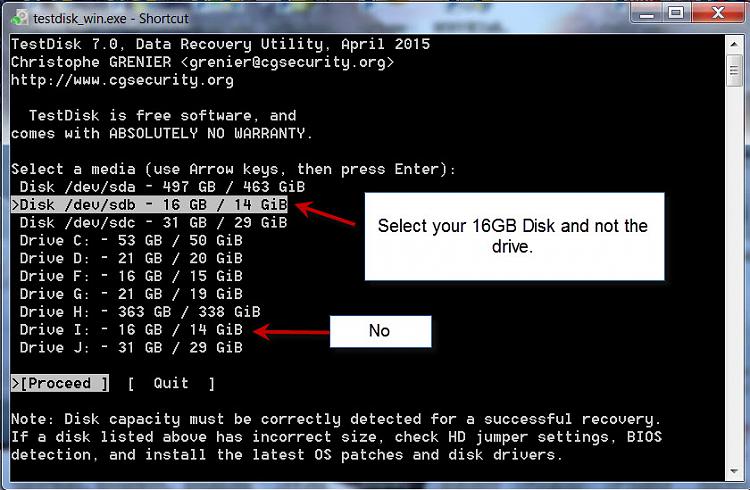 3. Select/highlight
[Intel] Intel/PC Partition
Enter
Note: By default TestDisk will auto Select the Partition type which it feels is correct. But this need not be correct always. In your case because the file system is corrupt it may show none. But you know that it is/was FAT32. So select/highlight [Intel] Intel/PC Partition. This was the mistake you did when you ran TestDisk.You let it be none.
4.[Analyse] Enter
5. (Irrespective of what you get in this screen) [Quick Search] Enter
6. If it shows your partition/s , highlight the correct partition which shows as FAT32 and
Press P
to list the files.
7. You may get a screen showing all the folders/files.
Select and then copy to the "Recovery" Folder you created in the Destination drive.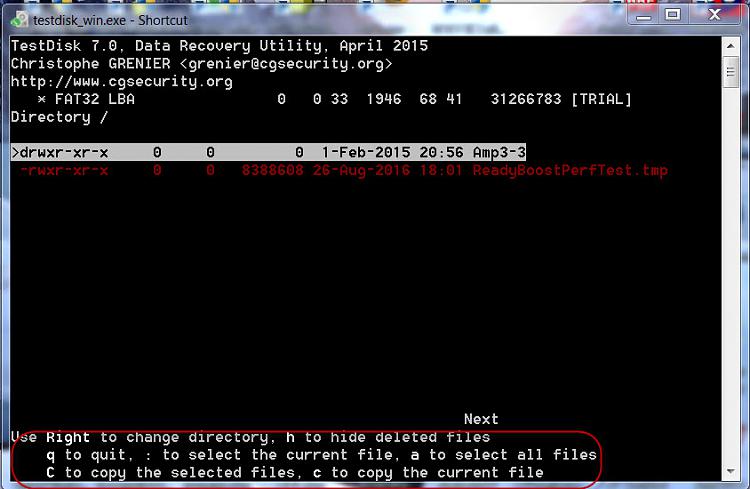 Copying files listed by TestDisk during Recovery:
My external hard drive suddenly became unllocated:
At any point when carrying out these instructions you have any doubts, post the relevant screenshot and ask for help.
You can quit TestDisk at any point by pressing the
X
in the top bar or repeatedly pressing Q.
As long as you do not give any write command to write something on the drive under recovery - the source disk you are safe. Here you will only be copying the files to your destination pen drive/external HDD
Do not copy the files to your system drive. Copy to another flash or external HDD only.