First, let me thank lehnerus2000 for his VERY CLEAR! information on using Macrium!
I can't wait to try that out and see if I can find my missing stuff (yes it did occur after all the iPad stuff as I probabaly killed the HDD trying to save an old iPad data to upload it to new one without spending for a data restoration person to do it "professionally". (sad bad boy face emojii).
I wish I could Rep you lehnerus2000 for that but the little window says I must spread around some reps before I do that (I played a game here hoping that it would let me do just that, but fortunately the designers of this site had the foresight to remove reps from all but serious work here helping others. Wish I had the knowledge to help others here in return for all the help I've been getting. (but they would have to read long replies I guess so maybe better that I don't do that).
Now for a few questions about my current situation:
1. My biggest problem with using "Safe Mode" 100% or so of the time is that I have no Audio Service. The Speaker has a "x" on it and clicking repair only leads me to the standard Microsoft Page: See Screenshot: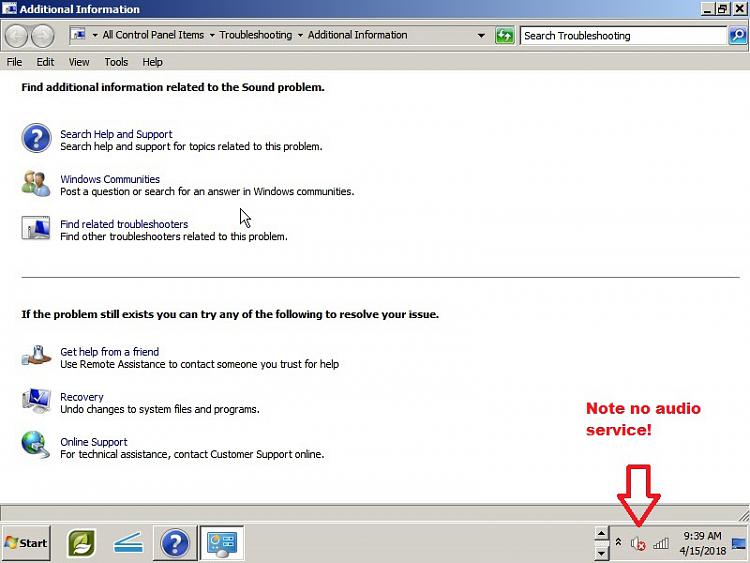 2. No printers! I had seven. Now I got none! I can assume only way is to spend each session I'm in Safe Mode an hour or more re-installing a printer (if it would even allow me to do it as I've not tried and things don't just work like they do in regular Windows while in Safe mode).
So that is a big problem, not being able to print out receipts or product information to make buying choices while I can use the browsers without overloading the HDD light.
3. I can't edit old files! It says that with the absence of Audio and other "services" (it lumped them all together in one message), I can't go and edit files I created using a program. And in fact I think its making any new files "unreadable" when I get back to the regular Windows for the same reason in reverse...but I haven't tried that as much as I would need to as hitting my head against the keyboard here so often is giving me a splitting headache trying to naviagte in the primitive world of Safe Mode.
Atari anyone? (just joking...but that is how it feels and looks like on the screen!)
4. My Norton AV and Malwarebytes hate working in the Safe Mode and let me know all the time with annoying pop ups and notifications that I am not protected (see 2 screenshots):
Norton Internet Security
Malwarebytes Premium
* * * * *
Yes I'm happy I can go on line and communicate directly with WindowsSevenForum without the convolulted work around using a more primitive computer to compose items and Emailing them to myself to post here.
Yes I'm happy that the HDD light is OUT! Actually its not on at all while I'm typing on the Word Proessing document and it flashsing on and off while I'm online.
Unfortunately, having BOTH the Word document open and the Web page open and the Paint and other things I used to get screenshots set up to post for WindowsSevenForum causes the Orange light to stay on 100% as it struggles to do all that under Safe Mode.
Yes, some weird things happen....like when trying to order online---I can get a jam when I go to apage with tooo many ads/video ads for me to order something online which I need to do every day... so I'm sent back forced to go and turn on the regular full system in order to do that very slowly.....one click at a time!
At least I have my information stored else I'd be typing my home address.... one letter at a time....over 15 to 20 minutes jst to write a sentence...but MarieSWE may have what services I'm running too much to solve that
A Question,
anyone? How do I "exit" Safe Mode and not lose all the programs I have open ? Or is the only way to close everything... shut down (or restart, both methods work) and launch the regular session of Windows again with the over-running HDD light problem slowing me down again!