Thank you !!! everyone for your confidence in me!







Posting #29
I do believe the laptop could benefit from a fresh install of Windows 7 Professional x64 (what OP currently has on it) - for that, he would need to find the license key. I think the OP should be capable of doing this on its own, I believe in him

(+installing drivers)
I Actually have so much to say from that one sentence I delayed posting anything while I wrote and made a new "thread" for that discussion..... as it will digress from the main thought here...
Here it is: NEW THREAD TITLE AND LINK GOES HERE::::::
about my "license key" for Windows Professional x64 in the Retail box I purchased August 2010).
We could help him find the right ISO and he could use the
Windows USB/DVD Download Tool
I also think that, it's possible that the issue OP is having with the laptop, could go away with a fresh install of Windows.
GREAT ! I agree so whatever happens next its either Windows Professional x64 reinstalled on this old drive or...
If the issue persists, the OP could continue to troubleshoot the hard drive - to tell if it needs replacing. I do think, that it is worth replacing it anyway - because it's old, and already has bad sectors. I have previously linked to a guide on how to do this -
here
I would like to know... I have HD Tune and still wading through the instruction manual. I did not get SMART to work in the regular edition of Windows 7, so someone has to tell me how long I have with 2 sectors bad...
My Computer science skills are rusty..... If any of those two sectors had a key sequence (for example the boot sequence of just 64kb) would it not render the whole Windows 7 inoperative? I don't need 200 or 4000 sectors to be bad....
Unless Microsoft has a self repair feature I don't know or am not familiar with (it never called or asked me for original disk lately, so its not deriving the OS to repair itself from any outside source---unless it does it secretly over the internet....
But then again... who knows what information goes back and forth over the Internet between computer and Microsoft HQ?
Posting #30
Not to worry I don't have OEM. I checked.
I have the original box (its not OEM) I did that route "once" that that was enough!
Thank you for information about "Digital River"!
I have 20++ programs that depend upon digital river being alive so I can update the product code if I switch the program to a new HDD or new OS i.e. Windows 10.
Go to
TechBench
All editions ( pro, home premium, etc ) can be made available from any windows 7 iso - either by removing the ei.cfg file from the sources folder, or by using
eicfg_removal_utility.zip
You can use
MagicJellybean
to locate your 25-character product key, if your laptop sticker is unreadable or missing, which is either on the rear or under battery.
Yes, I have seen that when I went in to replace the memory sticks myself for an upgrade of RAM to 8 GB... of course the 25 character product key inside the laptop is for the "Home Basic" version which it came preloaded "OEM" and which I had Best Buy (a store that also sells computer here in the US) swap out the HDD for a faster 500GB one in August 2010 using their "Geek Squad" ----a repair group that occupy's part of the store and services what Best Buy (or anyone else) sells. Hope that explains the two terms to those who are not in the US and not familiar with the names ---sorry for not explaining earlier.. I have to pay attention to the Nation Flags below your Avatars proudly waving your Country for everyone to know!
Yes I'd love to! But we already treid that.. SMART and other things like "Resource Meter" only worked in the "safe mode" and said everything but two sectors was ok "normal".
So yes yes yes!
I definitely would like to install a 1 TB or 1.5 better! TB knowing that it might be full eventually at 1 TB and leave me as I am today, struggling to remove items....
And....
I have to buy larger than a 1 TB external drive to hold one or two versions of the Macrium back up (as well as AOMEI) but I think I wrote to one of you earlier in another post you sent me a ISO with AOMEI on it version 4... But I have it in the CD Drive and there is no AOMEI ver 4 on it... unless I didn't know how to do the ISO properly.. I do it soooo infrequently..
And that answers that part of your post Snick above about ISO availability.
Posting #31
I also believe the easiest/fastest way is to reinstall the computer on a new hard drive. To solve this requires some hands on of someone with experience of the whole file system and regfiles... and it will take a long time to figure out everything that is going on in that file system.

YES of course Marie SWE! I'd love to accomplish this very much! Learning curve is high but that doesn't stop me as long as I have a backup (oh that's right.... I'm out of new back up room as my two old ones were working FAR better than any backup I do today with 2 bad sectors after all the damage was done and attempts at repair with all your help...I'm certain I don't want "THIS" as my backup!!
But then I'd lose all my notes and files and photos and screenshots I made and stored here in creating all of these posts for past three/four months
As well as all my help articles and other things I was sent by Apple technicians to help me with serious Apple problems from 2017 on old iPad.
So all that will be lost in time if I don't keep the January one and has to delete it to replace it with a "new" one
does all my writing BOLD make sense to anyone? If it does not please tell me and I'l rephrase it over again!
In the end I need to temporarily get some space... I need to spend for (not a new 2 TB HD external etc that I will eventually require to purchase---- but some (WD or Seagate only) temporary drive... cheap.... just to hold the current contents one or twice.... before the HDD melts down and self destructs.....
and I still won't know which of those many copies and back up images on MACRIUM I'd chose to be the one I'd give to the new clean install of Windows 7 PRofessional.
Decisions
Decisions
Decisions!

Yes to both (I did many series of "recovery disks" just following instructions from the program! But with all the sets I have I've never done a recovery! I have no idea what I did... I just stuck in some CD's until the computer said "ok you're protected" and stuffed them with dates on them somewhere...
I did it numerous times as I was unsure what version of MACRIUM should be the final one that the recovery disks would be used for.
Oh by the way.. in my HDD there are three partitions!
Quote:
I copied it off for you:
I can post a Screenshot but it was faster and easier to just write the 3 Partitions!

1. Recovery(none) NFTS Primary 8.63 GB
2. System Reserved (none) NTFS Active 100 MB
3. Main Drive letter (C : ) 457 GB 372 Filled up c. 84 Free


So does that count for anything?
Did I do this new type of Macrium imaging correctly/accurately to have created those??
The computer was installed by (Best Buy Geek Squad people). so a recovery partition on the disk is probably a pretty small chance.. but not impossible.
I hope its there... as I did the recovery disks myself several times when Macrium and AOMEI asked that I do a "new" one each time I got a new version of the program (each of them until AOMEI failed to upgrade as I don't have the key anywhere.. and they don't answer my email without listing my Key and I can't get into the old version 2 and the online instructions say only version 3 keeps the key inside the program so I'm out of luck there
I always like having TWO backup programs! For just this reason!
I now only have "one"!
Its a good thing in my prior thread about choosing a backup program I decided to use BOTH AOMEI and MACRIUM for the first few years of keeping the laptop....
Yes I got everything. That is why I dealt with them. They are a big chain store here selling appliances and audio/video/media/TV etc items as well......but Marie SWE .. you really have to read my brand new thread.... then you'll understand why I'm so hesitant on the re-installation of the Windows using my existing Retail original holographic design Microsoft disk
IT IS HERE::::::::::::::::::::::::::: COPY LINK HERE
But before a installation, all data must be backed up, check what all drivers and programs are called and versions... download all current drivers that are included in the device manager. (and write down all serial/product keys, as a precaution and save the old disk in case of something is missed.)
Thanks again Marie SWE! I checked a few other threads and I found you love making such lists!!
I like lists too!
But unfortunately such a list might take what few dozen years of life I have left to accomplish!
Unless you can teach my computer how to cut and paste on "read only" display windows.... you can't copy and paste such information!
See the following three series of Screenshots I took of my many "Services" which contain too many pieces of information for me to type as I found out and you can see my attempt at trying to copy this information and paste it.... Typing it by hand line by line is forever!
(Just noticed I copied by accident in the above screenshot: "Windows Defender" says it "stopped" but since I have two other AV's that should be deleted? or Cancelled? or whatever setting it should be as it was jolted awake by the latest series of Windows 7 Updates).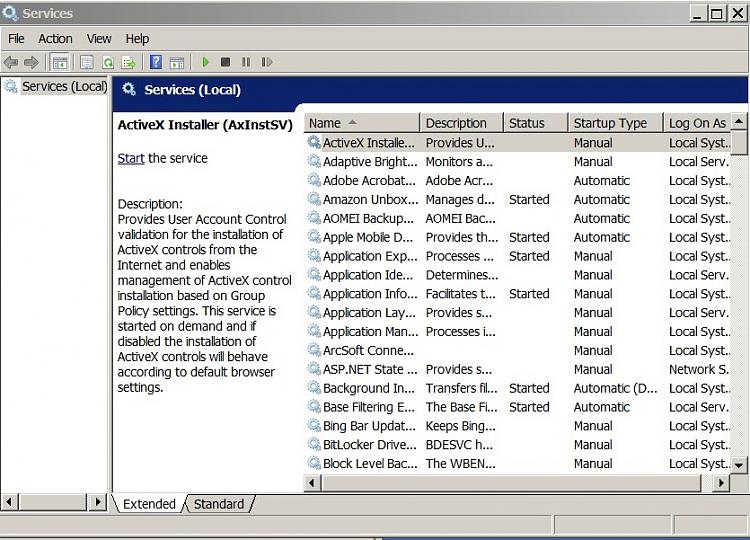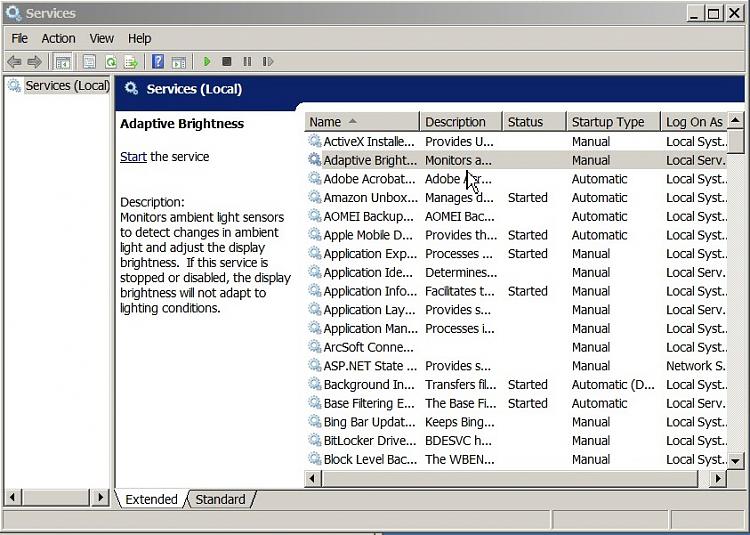 I always have to write it down on paper or use a Notepad to copy it off into the small window before moving to the next item in these types of computer internal listings...
And using a program called Driver Tuner ---that was supposed to check out if my drivers are up to date is now out of the question! My Norton AV program just removed it entirely from my Desktop last year! I didn't know they did that . It was good, they said but now the information is that its so full of PUPs and viruses and key loggers that using it is advised against so Norton removed all parts of the program "for me" and put it in quarantine.. automatically > I woke up one day and the spot was empty on the Desktop! I had to check out what it was from prior screenshots and explore Norton as to why it did that... whew! again and again I'm spending all my days just "IT" work on the laptop!
I don't think I have any time to actually use the laptop for anything!! in past year or so with so many other computer programs and Apple iPad dying problems too involving the iTunes and memory space here on the HDD for storing the iPad backups [ now you see how complicated this one little laptop is and how connected it is into everything else].
I Have iPad that can go online (others are too old....I really should create a new thread----is there a limit to how many threads I can have?? but I never found a XP version of these Forum pages to ask a very important question: That "patch" Microsoft created for XP
to patch up the "Wannacry" Ransomeware virus etc..
I can't find the correct version for my XP Professional version
I can't risk using the Internet on that so its now 100% off line and Norton and everything else has been screaming for Internet access for months now (and I've been busy with iPad and Windows 7 Professional problems!!! too much at once to keep track of that..
and
and (there is more)
I never installed Service Pack 3 so I have to find someone expert in XP to find out answer if the "patch" which says it requires Service Pack 3 will NOT attempt to load in Service Pack 3 into my existing Windows XP Professional...
and if it did ...
I have consulted over the years, knowledge bases for dozens of third party programs that say NEVER install the Service Pack 3 as their programs were never designed for using Service Pack 3 and it will cause them to crash and become useless!
So any files I made with them will be useless!
So unless I make a brand new computer with just XP Professional Service Pack 2 in it...and re-do another new one with less programs that will crash and find out which ones they are and install Service Pack 3 just so I can get online again with XP Professional...
But
I see the error in that thinking is that I will still have a Service Pack 2 that is unable to accept the "patch" for the Wannacry ransomware!
---ok don't mind my digression... It seems to me that I just wrote the whole thread and I'll copy it off from this document/posting someday and make a new thread if I find where there is a XP Forum site still operating....
sigh...
sigh..
sigh... I'm hopeless! I write tooo long.
I thank you soooooo much Marie SWE for that confidence in me! (after you just read how many problems I have been having
and my regular daily problem of writing tooo long...
I never text.... I can't fit all my long sentences into just 144/280 characters of twitter :lol:
Posting #32
Why go though all that techno-stuff, plethora of this and that!
CMD chkdsk /r
defragment
new HDD/SSD
AOMEI Backupper (simple GUI) system image, restore to new HDD, or migrate/clone HDD to SSD (if that's new drive choice)
problem solved
OP should have no problem with this procedure's simplicity!
I have version if AOMEI which includes migration tool (free) no hack!
THANK you Snick for offering that...
I think you did that already..
I downloaded a link
I attempted to make an ISO disk
I ahve that ISO disk in my laptop CD Drive
But it does not have the AOMEI version 4 on it... (free)
I paid for a version of AOMEI which upgraded to version 2 (I can't get "in" anymore so I have no idea what exact number just that its version 2)
And I said it elsewhere... that Version 3 has the Product Key auto installed so when it upgrades it automatically enters it...
But for Version 2 and lower..
I needed to find the original Email I paid for and got the Product key in it...
I tried 3 Email accounts, searching for the word: "AOMEI" and no luck..... 7 more to go..... its hopeless....they sent it from a site that does not have AOMEI int he subject line or in the "to" line so I can't find it and I paid for it too!
And so I tried to write to AOMEI for help
Sent it several times... but without the product code they never responded back to me thinking I'm trying to steal their product by lying about it...
So I have to finud that code else I can't access my 2 AOMEI saving on another external HDD! This one also is the HDD with the two Macrium saved backups on it.... All of the AOMEI versions are locked out unless I have a working AOMEI and it won't let me past the "STOP! You must upgrade first" Screen to continue using AOMEI (I'm afriad to turn it on as its hard to tell it "no" and get rid of it off the screen----I resort many times to pressing Hard Power Button off just to get rid of a stubborn program asking me to make a decision forever that I can't ask someone right then and there what to do! Sigh
Sigh
Yes I do the worst things when I'm given two choices and no way to decide!
And of course I read all the warnings before I do that .... so I never pressed "yes" as I do not have at the ready the product code
And again I am sorry to complain that there is no one immediately available to help me... (sad emojii face).
I'll be posting huge posts in another related thread: Upgrade Windows 10 (Snick is already here)
OP banned spammer
So if you would like to read those too.
I'll still answer to any direct questions here in this topic relating to what I wrote above......
=======================
I'll be posting huge posts in another related thread: Upgrade Windows 10 (Snick is already here)
OP banned spammer
So if you would like to read those too.
I'll still answer to any direct questions relating to this current thread!
Thanks everyone for reading to the end of a long posting!