Update on the situation = This is what I did:
I got this:
https://www.amazon.com/dp/B002PX9BX2...v_ov_lig_dp_it
I got the 6-port PCI version; found a brand-new-in-sealed-box on EBay for $15 delivered.
I got two of these:
https://www.amazon.com/dp/B00L9R3AKA...v_ov_lig_dp_it
I also got a better made version from China/EBay for $1.90 delivered, just to check the quality for another project; I will be using the China versions on the next project = 5 for the price of 2 with 74c to spare.
The reason I went ahead and also got the Amazon ones is because they got here in two days instead of four weeks.
To make the connection between the all-together-made 20-inch extensions, and to make the whole mess plenty long enough, I used a six-inch SATA power splitter and two 18-inch SATA data cables inside the box.
Never doing this before, I was a wee bit concerned that having so many extra SATA data and power connections might impede transfer speeds and integrity; however, after quite a bit of use, I have not noticed any difference whatsoever between these outside-mounted SATA-card drives and the two internally mounted motherboard-connected ones.
I built this: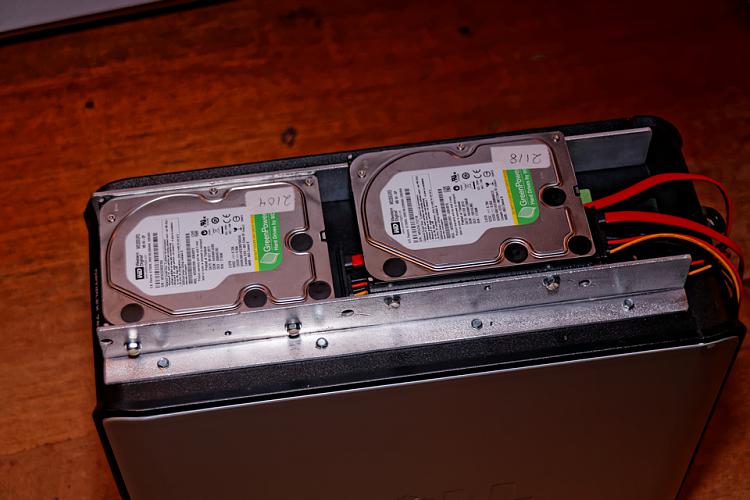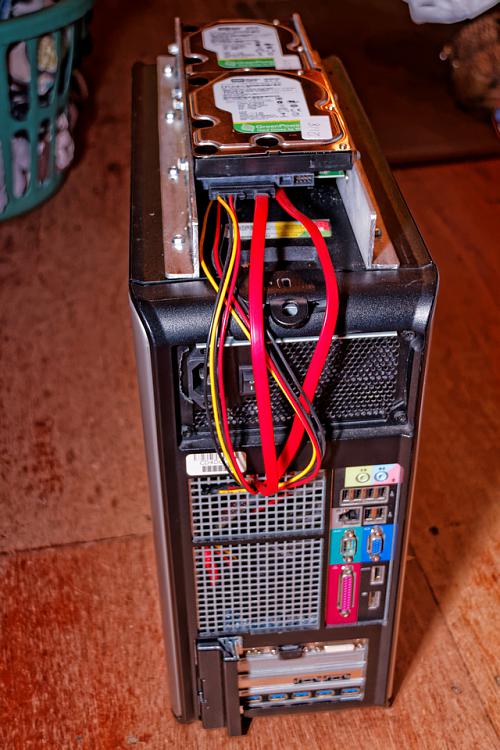 That is a piece of aluminum angle that I salvaged out from under a 57-foot spread-axle trailer that sort of got twisted -- the trailer, not the angle; hence, a few odd holes here and there. Cost = Free
Those HDD screws are household electrical switch-plate screws = a standard HDD screw was too short by the thickness of the angle; I searched the place over and the only screws I could come up with were these.
I got two WD RE WD2000FYYZ 2TB 7200RPM 64MB Cache SATA 6.0Gb/s 3.5" Enterprise Hard Drive
that have been mounted on the homemade hard-drive rail since the pictures were taken.
These two are brand-new/old stock that came with a so-called 5-year warranty from invoice date from the seller --- not from WD.
The two brand-new/old stock
NEW WESTERN DIGITAL AV-GP WD20EURS 2TB 64MB SATA 3.5" INTERNAL HARD DRIVE
that you see in the pictures have been relocated to two of these and will serve as back-ups to the two described above:
https://www.amazon.com/gp/product/B0...?ie=UTF8&psc=1
We currently have six of the Inateck enclosures and I will buy nothing else until something far better comes along; I have been using these since I first discovered that I could put a real HDD in an external box; if my first ones were trucks, they would have over a million miles on them.
I have these and four other externals connected to a Plugable 7 port USB 3.0 hub - 25W Powered USB HUB.
I also highly recommend the Plugable 7-port hub; however, as best I can tell, they are no longer available new; I got mine New/Open Box for $15.
I had similar speed/connection concerns having so many ext. HDDs connected via a single 3.0-USB rear port via the 7-port hub; however, in use, I cannot tell any difference from the HDDs being single-cable connected.
In case anyone is wondering, I have a five-port 3.0 USB card in the bottom/rear card slots, plus a four-port 3.0 USB hub residing in the front floppy-disk hole.
As for the six-port Vantec SATA card: as delivered, only four ports can be in use at any given time, the ports being chosen via moving around little jumpers on the card.
My plan is, with a bit of soldering and good old country-boy engineering, to incorporate two 4-pole/double throw toggle-switches, conveniently mounted, so I can quickly/easily put the remaining two ports in action --- this experiment may or may not work, but it looks good in my mind.
Sorry for so long and thanks for reading.