Continuing.......
This morning I was able to fishout a brand new Seagate 3TB Expansion Desktop drive - factory formatted - from my daughter's cupboard and made three 1TB partitions in it.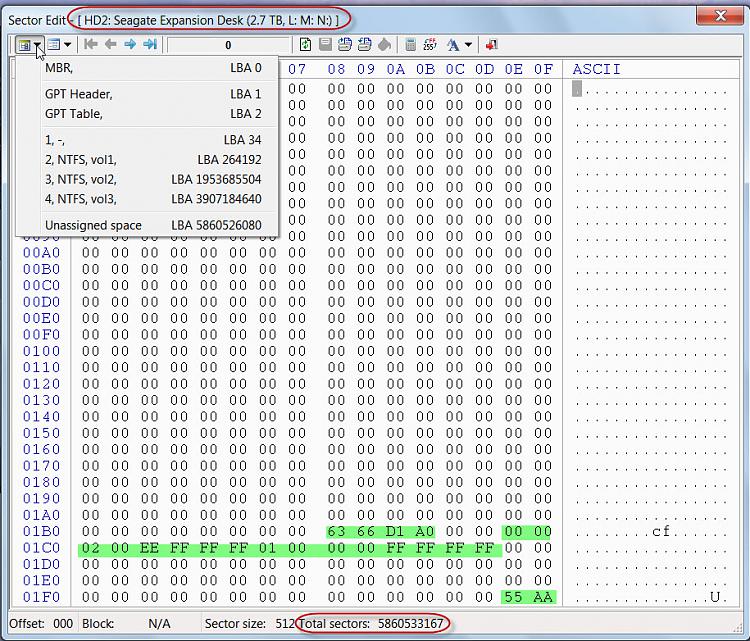 If one is going to use a disk only as a data disk, what all is needed in the protective MBR at sector 0 is the 16byte 2TB partition table and the Boot Record Signature 55 AA at the end. ( The 4byte Unique ID also known as Windows Disk signature can be any hexadecimal number including 00 00 00 00)
But if one is likely to use it as a bootdisk anytime, he will be better off wiping sector 0 and initialising it as a GPT with Windows Disk Management with the resulting Sector 0 as in the screenshot in the previous post.
Now coming to the partition structure and its backup:
Sector 1 - The GPT header. Its backup is at the last sector n-1.
The backup however is not an exact replica of Sector 1
It is recoded to make the system believe it is coming from Sector 1
If I denote the total sectors shown in bootice as
n
then the backup is at sector
n-1
. Here n=5860533167 ( If you start counting from 1, the last sector is actually n-1 and accordingly the last sector will be shown as 5860533166 in the bootice sector field on top )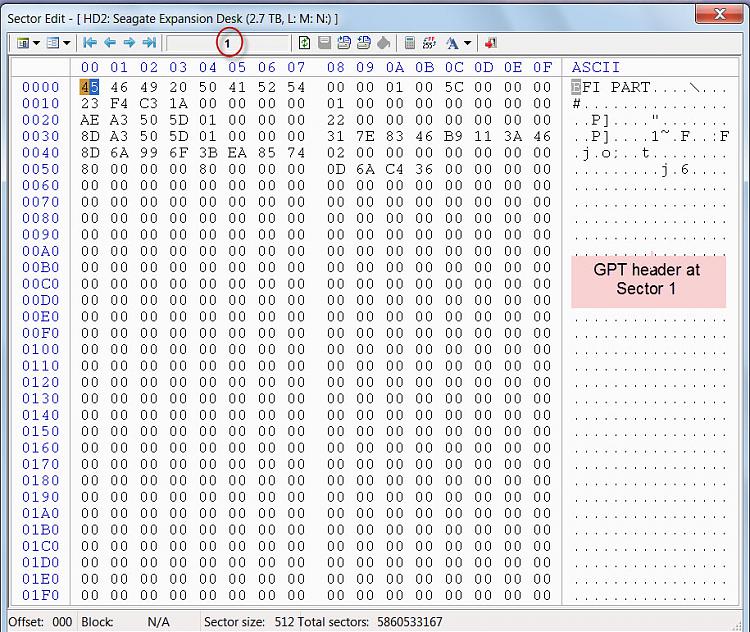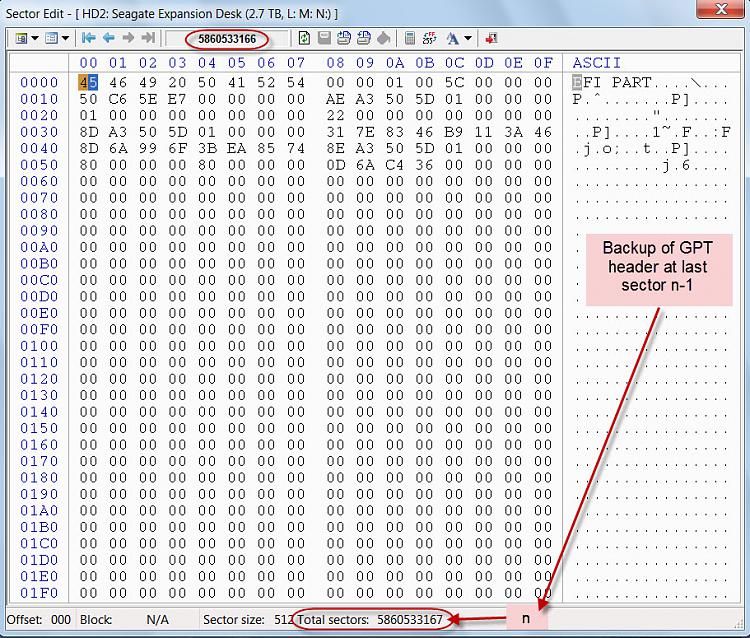 Sector 2 - Partition Tables ( each sector can accomodate 4 partition tables.) Here tables for the 128 MB MSR partition and the three data partitions. Its backup will be at sector n-33 =58605333134. The backup is an exact replica of Sector 2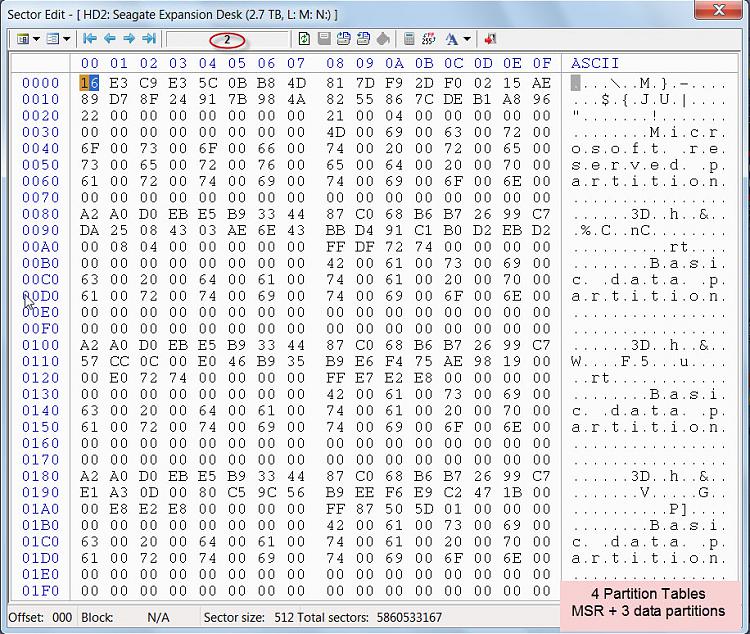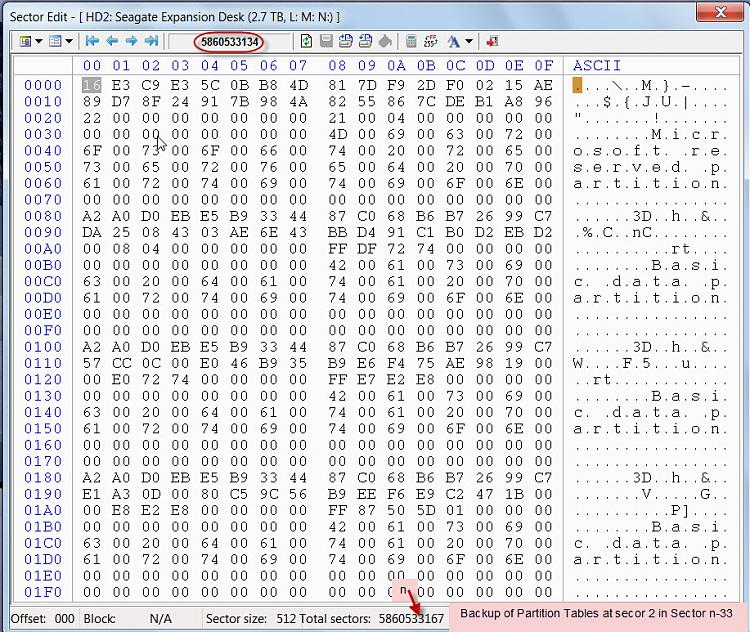 Sector 264192, Sector 1953685504, Sector 3907184640 Volume Boot Records for the three data partitions at its start sector. (MSR is not user accessible and used by the OS to store data when needed. No VBR)
One Data partition VBR sample: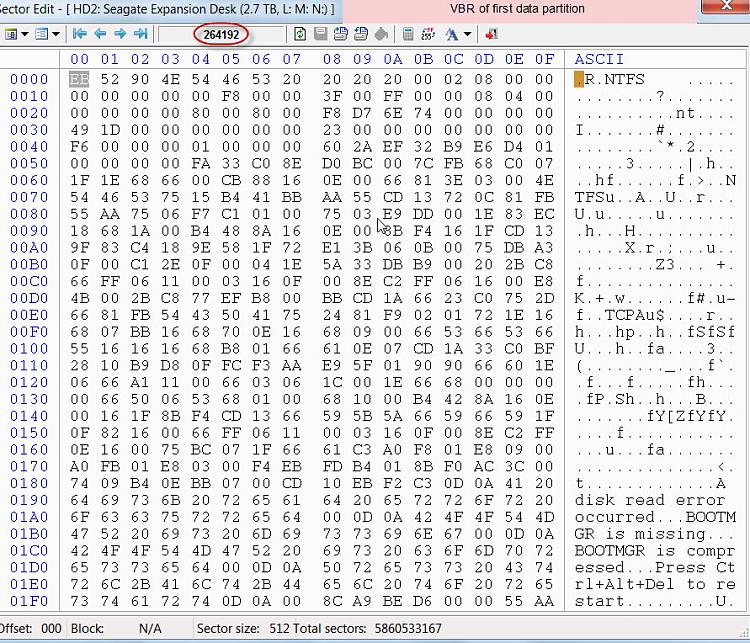 If the GPT Header and the partition tables get corrupted, the
system will automatically read from the backup
and the disk will continue to perform normally. The user wouldn't even know that some corruption had taken place and the partition data is being read from its backups.
( The corrupted header/Partition Tables will continue to remain as such in their seats. They are not restored with the backups)
Will be continued after a short break