I wish I could have helped you better but then I have gotten busy with other things in the last few days and will continue to be busy with it for the next few days..
At this stage you have no option but continue to try whatever you can. (I had some plans to do some experiments on my 3TB to check whether some ideas I have formulated can work but unfortunately as stated I will be busy with other things and therefore cannot concentrate on it. I need undivided and undisturbed attention to do it)
You may do the following: ( This is exactly what I wanted to experiment)
Save sector 1 ( GPT Header), Sector 2 (GPT Partition Table)
Sector 264192
(VBR at the start of the first partition - First partition always starts at Sector 264192), sector 1565565839 ( backup of the current Partition Table), sector 1565565871 ( Backup of the current GPT header) with bootice ( This is only a safety measure. Should you want to go back to the previous state anytime, you can restore with bootice)
After saving those, zero these sectors. To write zeros to these sectors, go to that Sector, move the mouse pointer diagonally across, (thus selecting all the 512 fields), right click > Fill Selection > 0x00 > OK and click on Save changes icon in the menu bar. In effect you are destroying these unwanted sectors and GPT structure.
Keep sector 0 as it is and do not zero it
(With this unwanted GPT Partition Data killed, I presume the correct partition data at the fag end of 3TB will kick in and we may be able to see the full 3TB.)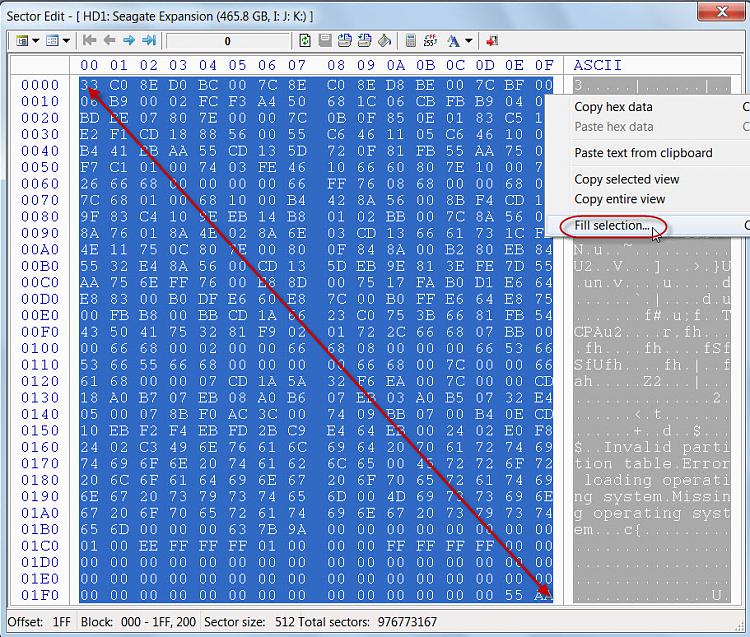 Close bootice and rerun to check the disk shows all these sectors are correctly zeroed.
Then Run Partition Wizard, Quick scan. Let me see what partitions it finds. ( Of course it will not find the first partition VBR (absent, since we had zeroed it.) But if it finds the second and third partition and shows your full 3TB disk then we shall think of some more manipulations to write a new VBR for the first partition. If we succeed, then Getdataback and Active at file recovery and all such software may be able to see the original Master File Table that may be, as I guess, between 746GB and 1TB which at present the recovery software do not see.
As I said this is purely experimental that may or may not succeed. I am just working on assumptions and presumptions.