Update on CPU Cooler
OK, so I got the
Noctua NH-C12P SE14
in. Got it installed and thus far…. Results are mixed. Overall it's about 3c degrees cooler than my old
ZALMAN CNPS9500 AT
. With the Zalman I was averaging 75c load, 45c idle on my overclocked 930, the SE14 is averaging 72c load, 42c idle. Hmmm.
Where it excels is in noise. This thing is quiet, even with the processor running at full load. This of course is due to its large 140mm 1200 RPM constant speed fan. Even at its full 1200 RPM speed, this thing is quiet. If I want "quieter", at the cost of higher temps, I can use one of the two voltage adapters to lower the RPMs but I don't need them as this thing is quiet enough.
As to fit/clearance…. There's no issues using it on a GA-X58A-UD5 MB. There was however a clearance issue with my
Corsair Dominator RAM
. Depending on orientation the cooler will hang over the first stick. Reorienting the cooler took care of that issue. To be honest this was a concern going in as posted here -
Noctua NH-C12P SE14 CPU Cooler, GA-X58A-UD5, and Corsair Dominator RAM fit
At any rate, reorienting the cooler leaves clearance for the sticks
without having to remove the heatsink
from the first stick. Here's the
Suggested orientation of the NH-C12P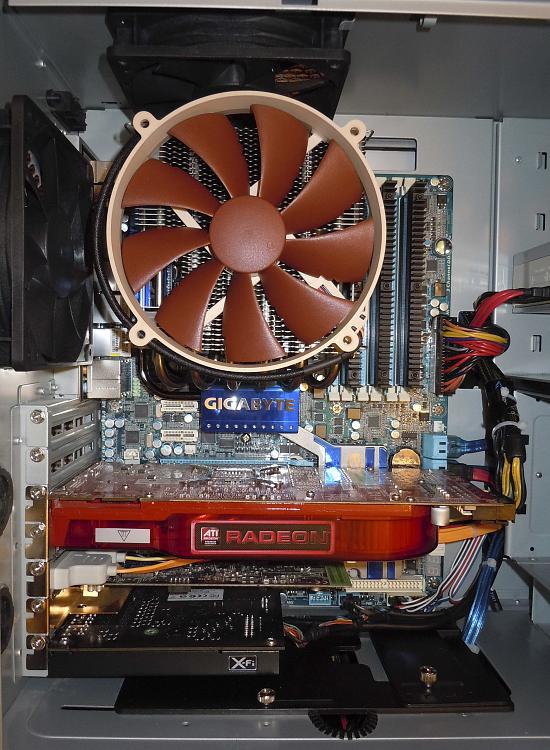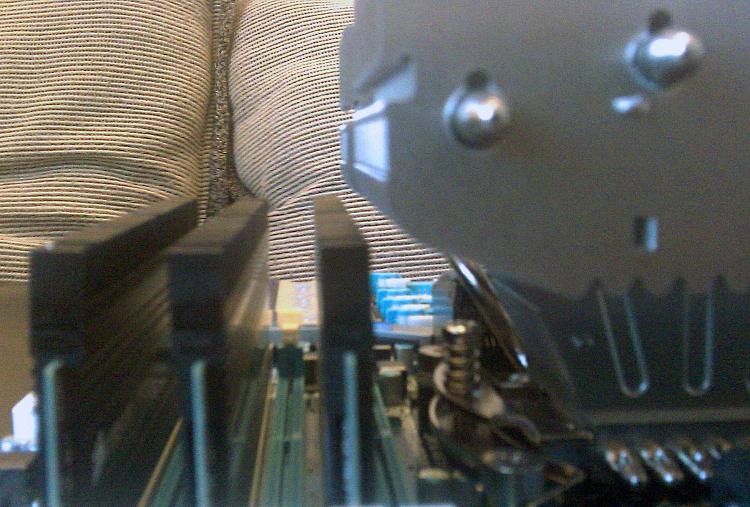 Although this thing is big, it's surprisingly light, even with the fan attached.
BTW the cooler comes with
Noctua's NT-H1-1 thermo compound
which actually outperforms Arctic Silver 5, though not by any wide margins. My own unscientific tests show both giving about the same results. However it's been noted that Noctua's paste settles quickly whereas Arctic's paste takes a few days to settle. Hmmm….
So….did I get what I expected with this cooler? To be honest, the book is still open. I'll give it a few more days as the NT-H1 thermo paste settles in. Yeah, I know I just said it settles quickly, but I also said "Hmmm..."
What I DO like about it is the low profile and low noise. With the fan running at full speed, this baby is quiet. I'm running four 120mm fans in my
Antec P182 case
. Two
S-FLEX SFF21E's
, top and rear (20dBA), one
Enermax Magma
(18 dBA) front, and a stock Antec Fan in the lower mid chamber (had to replace a faulty Enermax Magma). With the combination the fan noise is more like a low running whoosh sound… like an AC in the background.
Also with the SE14's fan blowing down it provides cooling to the board's components. Cool.
With that said… if you're going anywhere near a 4gig overclock, this cooler isn't for you (or me). This is more for the light to medium (3.5ish gig) overclockers where noise is a factor. That's me.
To be honest I kind of expected more (
Review
), but....

Next up...Power Supply