Hey guys, sorry for the delayed response but here is the info.
Speccy Output
Operating System
MS Windows 7 Ultimate 64-bit
CPU
Intel Core 2 Duo E6750 @ 2.66GHz 45 °C
Conroe 65nm Technology
RAM
4.0GB Dual-Channel DDR2 @ 399MHz (5-5-5-18)
Motherboard
EVGA 122-CK-NF68 (Socket 775)
Graphics
Acer P241W @ 1920x1200
SyncMaster @ 1280x1024
320MB GeForce 8800 GTS (nVidia) 54 °C
Hard Drives
391GB Seagate ST340063 3AS SCSI Disk Device (SCSI)
488GB Seagate ST350063 0AS SCSI Disk Device (SCSI)
Optical Drives
ASUS DVD-E616A3 ATA Device
Audio
High Definition Audio Device
Here is the disk management output.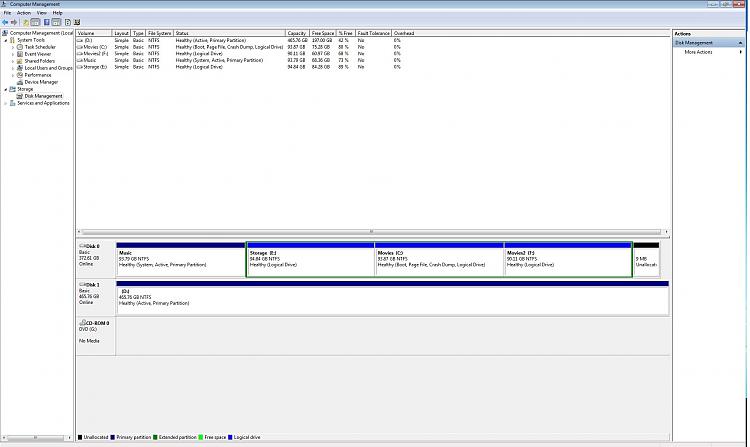 I tried the repair, and when it comes up with select your operating system from the list below, it says i have the wrong installation disc inserted. I will be getting the correct one tomorrow, but i can cancel through the menus and get to the repair startup section.
(Ran it 5 times for good measures)
It comes up with an error that it can not detect an operating system on my hard drive.
Thank you in advance for any help you guys might have.
(i can always back all my documents and such up and reformat the hard drive, but i dont want to go through the trouble of drivers and all that stuff.
Let me konw what you guys think