Hi from Finland. I'm new to the forum but have referred to the posts here many times before. Only now I have exhausted myself searching through previous posts before registering to ask for help. So I hope some of you, who are smarter than me, can assist :)
My issue started with the cycbot.b virus. I managed to boot into safe mode to move my photos and essential files over to an external HDD but I can't get back into safe mode again now (shame, as I forgot to copy my firefox bookmarks). When I try to boot into safe mode now I get a blue screen of death flashing for a second or two with and ICQ error I think it said. And we're back to the laptop rebooting. It has tried to send me through system restore and various recovery options but always I get to the desktop in normal mode and it restarts itself again.
I've tried various boot discs including Dr Web LiveCD but no luck so far (none of the USB boot options have worked, even when I change the boot order in the BIOS). Dr Web's main interface wouldn't load so in the Advanced mode I set it to scan and left it for around 12 hours to churn through. The end result was apparently 49 infections, which were renamed. I then tried to reboot but nothing has changed.
I started to wonder if there could be a problem with the laptop's memory so I tried DR Web's memory check option on the Live CD (advanced menu) but it went a bit mad. I then checked with MemTest86 and it reported back that there are no issues.
I also tried searching for files manually and deleting registry entries as per
http://answers.microsoft.com/en-us/p...5-82e55f7ffc72
but I found that my paths aren't the same in my registry or folder structure when attempting this (on that occasion I got into safe mode). Oh yes, I tried running various tools like Malware bytes from safe mode but they would't run (even when I renamed the files before running).
So... I decided to do a clean installation of the OS, which I was expecting to be simple. sadly not though. I started up, hit F8, went into the recover options and chose to reinstall windows. it basically froze before it even began and several hours later I was forced to turn it off and on again. Now, I get this demand for a windows disc: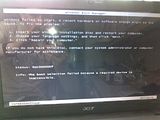 I managed to get my hands on an installation disc and followed it through to reinstall my OS as per below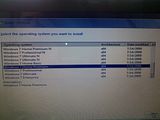 And I'm now at this point.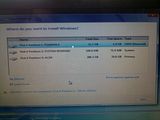 If my installation files are in partition 1 reserved then do I install windows to partition 3? Or will that effectively take another 20 gigs uneccesarily? I can't quite get my head around whether I need to remove that partition 1 or do I just leave it and proceed with installing the OS to Partition 3?
I tried to run sfc/scannow from the command prompt in the recovery module by the way and received the error message "There is a system repair pending which requires reboot to complete. Restart windows and run sfc again." Unfortunately after reboot it still gives me the same message.
Any help would be greatfully received, especially if you have some idea how I might rescue my firefox bookmarks before doing a fresh installation.
thanks
Nj