My adventure is similar to merlincorp in his thread: "
Win 7 plus Win 7 on 2 partitions?
"
The biggest difference is that I want to stay with Dual Boot indefinitely.
I do a lot of beta testing and my plan is to create an image (Macrium Reflect) and periodically restore a "new" Win 7 partition to clean out "beta rot".
From the snap, here is how my Disks/Partitions lay out: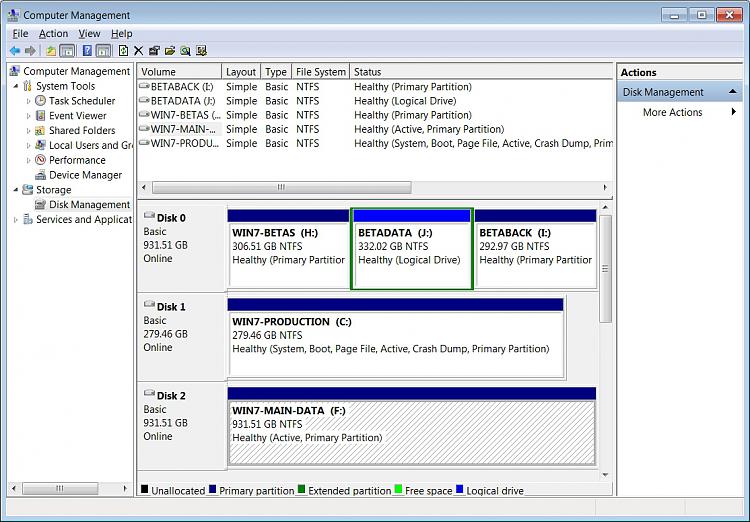 Disk 1
is my existing Win 7 64-bit OS and will be the "default" boot option in my dual boot scenario.
Disk 2
is purely Data
Disk 0
is a virgin drive (no OS or Data yet) and is merely partitioned (not Active yet). This will be my second dual boot drive alternative. It is here that I want to install a second licensed copy of Win 7 Pro 64 bit on the Win7-Betas (H:) partition.
There is a partition labeled BetaBack (I:) which is where I intend to store an Image of Win7-Betas which I will use to periodically restore Win7-Betas (H:) from time to time.
Questions:
I presume I should make my Disk 0 Win7-Betas partition "Active", right?
I read about disconnecting the SATA cable from the existing Disk 1 before installing the "new" Win 7 to Disk 0. Is this applicable to my scenario? I'm hoping not, but what are the consequences one way or another?
When I insert the Win 7 install DVD will it "discover" my existing Win 7 installation and ask me what I want to do? If I just tell it which Drive partition to install, will that suffice?
During the usual install restarts, is there some built-in dual boot menu enabled automatically?
During the customary restart process, does the install routine know *not* to boot my "old" Win 7? Or, is that why I should disconnect the old Win 7 SATA cable?
How do I prevent inadvertently corrupting my existing Win 7 setup boot files which some folks seem to report?
Do I need to mess with a "System Reserved" partition as described in merlincorp's thread or can I skip that step if it doesn't apply in my case?
Thanks so much guys for your incredible patience! I really learned a lot from that "Win 7 plus Win 7" thread and hope mine is as successful.

John Daigle
Evergreen, Colorado