LOL.
1. As far as I know - you can only change the string ( in this case the path ) to one of the same length.
Because the path you want is "installwindows\boot\bcd" and the original string in bootmgr is "boot\bcd" - then it won't work .
2. The alternative is :
Put the "boot" folder directly on the root of the drive - so bootmgr will find it without any editing.
What you then need to do is edit the bcd entry - to point at "installwindows\sources\boot.wim"
Start bcdtool.exe , click Bootconfig>Open and browse to bcd in the boot folder you just moved to the root of the drive, then,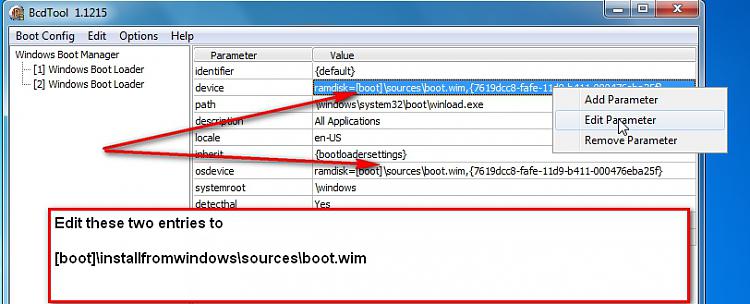 BcdTool.zip
Boot.wim will boot up fine.
3. You want to install one of several different windows operating systems ? - you can do that from boot.wim.
The way to do it is with imagex - put imagex in boot.wim - you can apply any image from any wim with imagex.
To make it easier - there are several installer programs which will give you a nice gui to do the job.
Put that program in boot.wim and it will do the installing for you.
4. How do you put the program in Boot.wim ?
Simple - you need to mount boot.wim - ( easier from windows 7 as you can use dism to mount it )
You can use this nice easy dismgui:
DISMGUI .zip
Copy the installer program into the mounted \windows \system32.
Unmount the boot.wim image with the commit switch.
4. To run the program when boot.wim has booted - just type installerprogramname.exe in command prompt.
This will pop up - which is pretty self explanatory :
Will you be using 32 or 64 bit boot.wim for this?
Most people use 32 bit boot.wim- you can install 64 bit operating systems from it.
Does that make sense?
EDIT - I just looked back at your original post - the path you want is installwindows\windows7\boot\bcd
So use that instead of installwindows\boot\bcd everywhere above.