Dear fellow geeks, I need help to restore an HP Envy 17 to factory conditions. Problem is, HP recovery does not work when HDD is dynamic. Have now tried to burn a recovery DVD set 5 times, it fails every time when verifying disk 1 so factory recovery using recovery partition is my only (?) option.
I tried to convert HDD0 to basic using Diskpart (deleted all volumes, converted to basic) and then restoring from an image only system reserved plus partitions C: (OS) and E: (recovery), unselecting all other drives and partitions; still after recovery HDD0 is again dynamic with two extra partitions.
Disk management: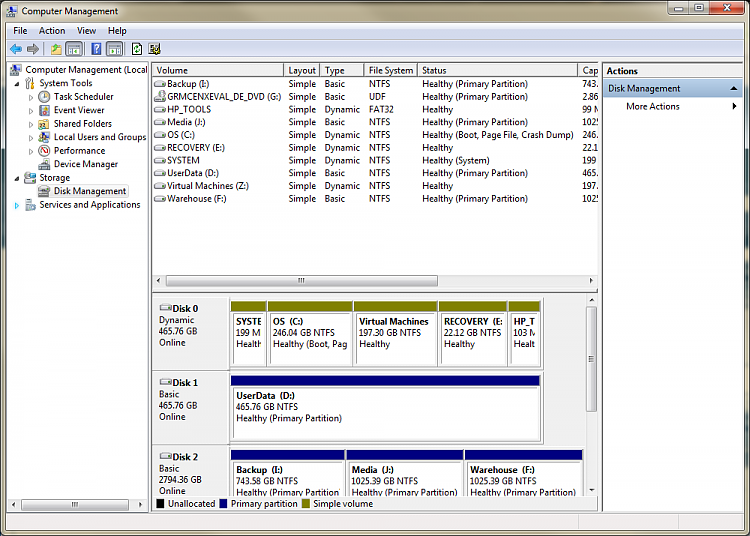 Questions:
Would it work if I instead of image just did a full backup of Recovery partition, converted HDD0 to basic using Diskpart, re-created Recovery partition and restored it using backup (no image)?
Could I / is it possible to move this recovery partition to an external USB stick (have big enough 32GB stick) or USB HDD and do recovery from there?
Tried 5 DVDs from 3 different manufacturers, burning recovery disks always fails on verifying first disk 1. Any ideas why?
I am keenly waiting ideas: How could I do a factory recovery when A) burning recovery disks fails, B) HP Factory Recovery does not allow image to be restored when target is a dynamic disk, and C) when restoring an image including recovery partition to a basic disk it is automatically converted to dynamic?
Summary: System Image I have now restored a few times is made using Windows native imaging tool, and it is working except it converts HDD0 to dynamic. How to avoid HDD conversion when restorimg system image?
Kari