I have my doubts, but his OEM did an incompetent repair which left recovery absurdly large, so he really had no choice.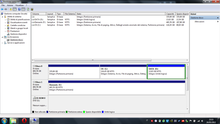 OP was advised to test if it would run, make Recovery Disks and even save a Win7 backup image to cover all his bases before shrinking or deleting it if it isn't wanted.
I would have deleted it myself, and still would. He may want to see if it will even run. It does need some breathing room to do so.
Since it shows empty, I would unhide System and Hidden files in Control Panel>Folder Options>View, give Recov partition a drive letter, and see if there's anything even there:
Drive Letter - Add, Change, or Remove in Windows 7 - Windows 7 Forums