My Win7 partition already was marked active, at least according to Disk Management and MiniTools (Active, System, Boot, Primary, PageFile, Crash Dump).
I have run the Startup Repair 3 times in a row, but still, the only way I can boot into my C: Win7 installation is to have the Win7 setup DVD in the drive. I just ignore the "press any key" and let the system boot up. If I take out the DVD, I still get the "Reboot and select" error.
After trying Startup Repair at least 6 times, I tried EasyBCD, following their FAQ: first "BCD Deployment" i.e. Install the Win7 bootloader to the MBR (wonder if I also was to have done, "install BCD" to my system partition...Hmm.. When that didn't have any effect, second was to run "Reset BCD Configuration", and that also did nothing, so next I tried Re-create/repair boot files". That too had no effect.
My drive has been partitioned this way for over a year without any trouble til I booted into Tails Live CD, but reviewing the partition table in diskpart, showed me that the numbering of the partitions seems weird, and I wonder if that's something to do with it.
In the order they exist on the drive physically, the drives are lettered C, E, X, and V (with X being a small extended/logical partition), but their respective partition numbers are: 1, 2, 0, 4, 3 (0 and 4 are both drive X).
Here's an image if that helps. I realize looking at this mess maybe I'll wipe everything and install clean on a re-formatted disk. But still I'd like to get this problem figured out.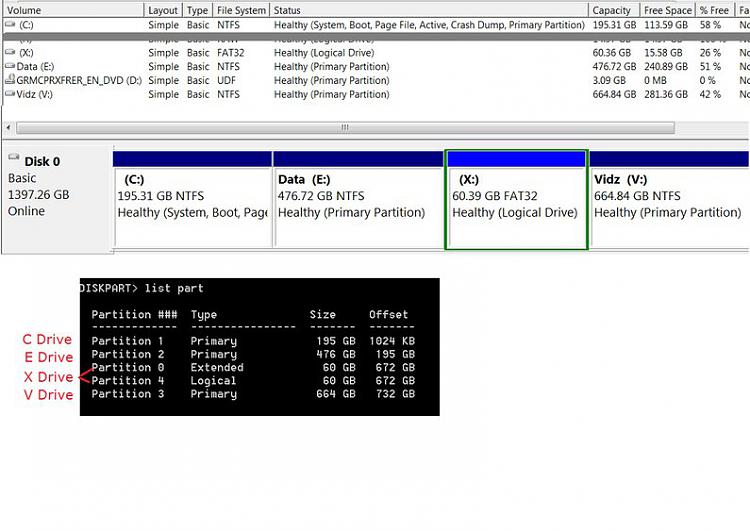 Thanks,