I am having a problem with my dual boot setup. Despite only running two Win7 partitions, I have three options on the boot selection screen and two of them are redundant (the same). How do I get rid of one of them?
I have:
Windows 7
Windows 7 Ultimate N
Windows 7 Ultimate N
Here's what it looks like from the Startup and Recovery window:
I would like to safely remove one of the "Windows 7 Ultimate N" entries. I am ok using a command prompt and bcdedit or the like - I just don't want to break something.
I took some more screenshots of my setup to help troubleshoot: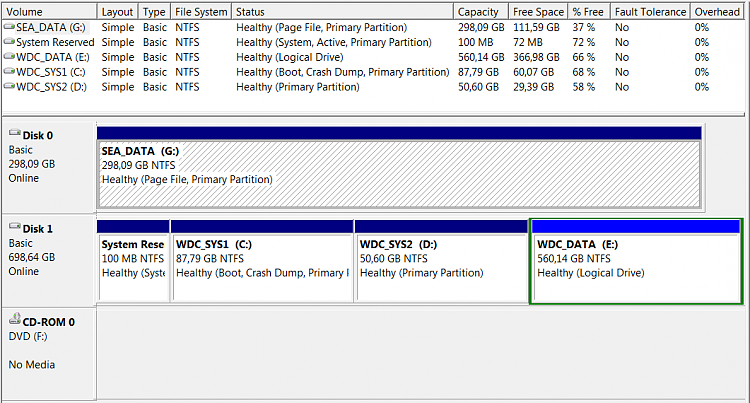 Here's the complete Windows Boot Manager config:
Windows Boot Manager
--------------------
identifier {bootmgr}
device partition=\Device\HarddiskVolume1
description Windows Boot Manager
locale en-US
inherit {globalsettings}
default {current}
resumeobject {2a15b374-c7f8-11e1-89ef-efa540e0c50e}
displayorder {2a15b379-c7f8-11e1-89ef-efa540e0c50e}
{current}
{current}
toolsdisplayorder {memdiag}
timeout 3
Windows Boot Loader
-------------------
identifier {2a15b379-c7f8-11e1-89ef-efa540e0c50e}
device partition=D:
path \Windows\system32\winload.exe
description Windows 7
locale en-US
inherit {bootloadersettings}
recoverysequence {2a15b37a-c7f8-11e1-89ef-efa540e0c50e}
recoveryenabled Yes
osdevice partition=D:
systemroot \Windows
resumeobject {2a15b378-c7f8-11e1-89ef-efa540e0c50e}
nx OptIn
Windows Boot Loader
-------------------
identifier {current}
device partition=C:
path \Windows\system32\winload.exe
description Windows 7 Ultimate N
locale en-US
inherit {bootloadersettings}
recoverysequence {2a15b376-c7f8-11e1-89ef-efa540e0c50e}
recoveryenabled Yes
osdevice partition=C:
systemroot \Windows
resumeobject {2a15b374-c7f8-11e1-89ef-efa540e0c50e}
nx OptIn