Hey there, new to the forum n' stuff. I already did a check of the topics and didn't quite find one that matched my issue so here it is.
I'm currently running Windows Vista 32bit on my 250gb HD. I also have a 80gb SSD I just purchased plugged in as well, my computer can see it but is completely unformated and untouched.
After I bought the "Windows 7 64bit Professional Upgrade" I download the package from Microsoft and got the 3 files you see on the right which I then extracted to the left...

I then used PowerISO and burned the extracted files onto a DVD-RW...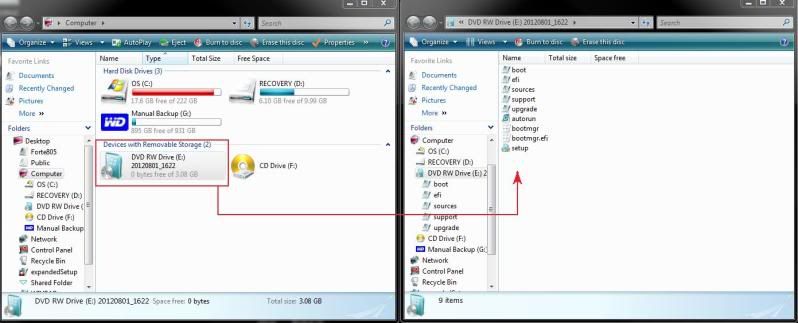 I then restarted my computer, held F8 and booted from my CD drive. When I did so my computer just started up like it always does from my standard HD and nothing happened. Rather confused as to what I need to do.
Any insight as to what the problem is?
My goal is to Install Win7 onto my blank SSD and wipe my existing HD clean (the one that holds my existing Win-Vista)