Although not an issue for me directly as a TechNet subscriber, the "Upgrade" install process was still bugging the hell out of me and some of my House Party guests are beginning to inquire about the exact upgrade details. So I wrote to Microsoft. I've attached the reply I received yesterday.
Most of the folks I will be doing upgrades for are Dell users so I phrased my questions in that context to alleviate their particular fears.... not that it should matter for others. Dells are a bit unique in that they ship a pre-activated full OS disk and not a "System Restore" disk.
The rumors of clean installs with an upgrade disk apprear to be true.
But
, it also appears that one doesn't just slip in the Vista disk when prompted. The upgrade process must see a fully installed and activated qualifying version before it will allow a complete disk format to pass a flag that allows the upgrade key to activate Windows 7. I guess the "flag" would be held in the RAMdrive during installation or placed in the System Reserved partition.
I think this is the pertinent part:
" If you choose to use the upgrade version of Windows 7, if you ever had to format your computers you would have to install your original copy of Windows Vista and then install the upgrade to Windows 7. This must be done using either method of installation with the upgrade version.
If you wish to bypass the requirement of installing your Vista during every computer reformat then I suggest you purchase the full version and perform a clean installation. This would enable to re-install your operating system and get your computer up and running much quicker."
So, the clean install process is clearly more complicated but doable. And in the case of Dell users, the process will be a little quicker for future reinstallations because we can get Vista installed and activated from a USB key in about 10 minutes. Won't have to sit through all of the driver and crapware installations of some "System Restore" processes. It shouldn't matter that many of the drivers aren't present, just that Vista is installed and activated.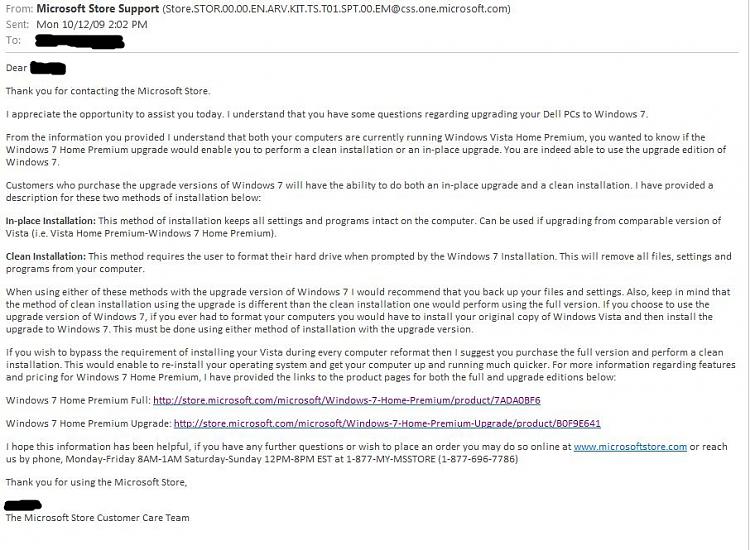 Tom