Finally go it working.
Very simple, just d/l the attached .zip.
Inside is a .7z file, which you unzip onto your Hard drive.
You will have a folder C:\SIW2REC7
In there , just rt click and
run as admin
on the runmeasadminx64.cmd, or runmeasadminx86.cmd.
Should take a couple of mins to make a boot disc for you.
When you boot it up, 64 bit users will get this: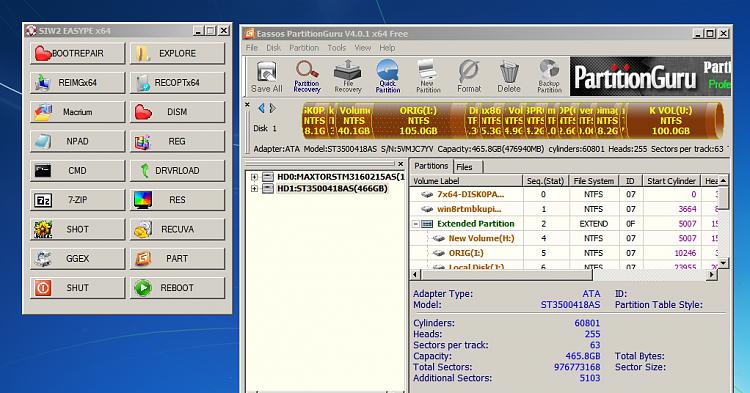 All those options will be in there - except macrium and partition guru.
If you want to include
Macrium Reflect FREE Edition - Information and download
and
PartitionGuru Free - Download
- you need to
install
them . Then they will be included automatically.
Partition Guru free is an excellent partition manager ( the only one I have found which is native 64 bit ). The free version works for 512kb mbr style - just like the macrium free version.
32 bit users will need to run runmeasadminx86.cmd instead.
Running the runmeasadminx86.cmd.gives you more options - you can include paragon and partition wizard, for example.
64 bit users can run runmeasadminx86.cmd as well - it will download a small part of WAIK (130MB ) and make the 32 bit pe for you.
64 bit users can run runmeasadminx64.cmd first (don't bother making an iso ), then run
runmeasadminx86.cmd and both will be included on one boot disc with a menu to select.
Updated version:
Updated again to v4 - fixed extraction issue, fixed adding old version of macrium - now only adds new version of macrium if you have it installed:
https://www.sevenforums.com/attachmen...c-siw2r7v4.zip