Hey Guys!
I know this has been brought up time after time but I've read several threads and it seems like the approach is slightly different depending on the computer configuration. If anyone has time to give me some basic guidance I'd be
most
appreciative! I'll try to supply all the info requested on other similar threads to make this easier.
Here is my current configuration (feel free to laugh at how full my drives are!):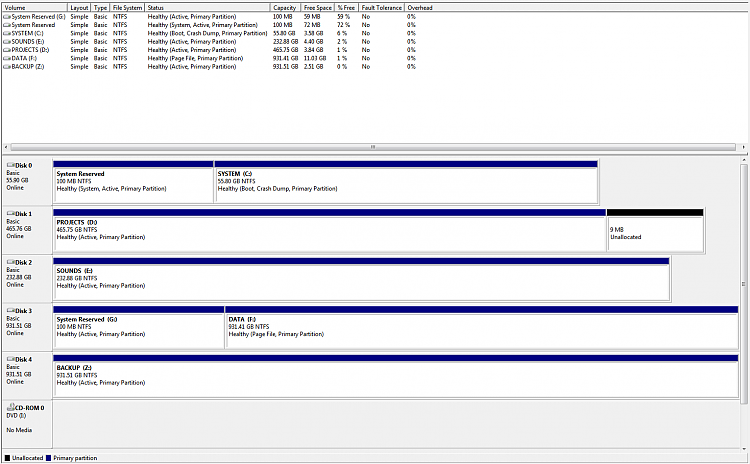 Scenario:
I bought a new SSD (DISK 0) and installed a fresh copy of Windows 7 on it. I left the old copy of Windows 7 on the original system drive (DISK 3) in case any of the programs I use for work had problems when re-authorising licenses etc. that way I could just go back to my old setup to get work done.
Before installing Windows 7 on the SSD I switched the hard drives around physically, I put the SSD on DISK 0 and the old system drive on DISK 3. I'm 95% sure I had the old system drive (DISK 3) connected when I installed Windows 7 onto the new SSD (DISK 0).
Basically I want to:
1)
Remove the old Windows folder on DISK 3. I've taken ownership of it as per
this tutorial
but I must be doing something wrong as now it's telling me I need permission from myself?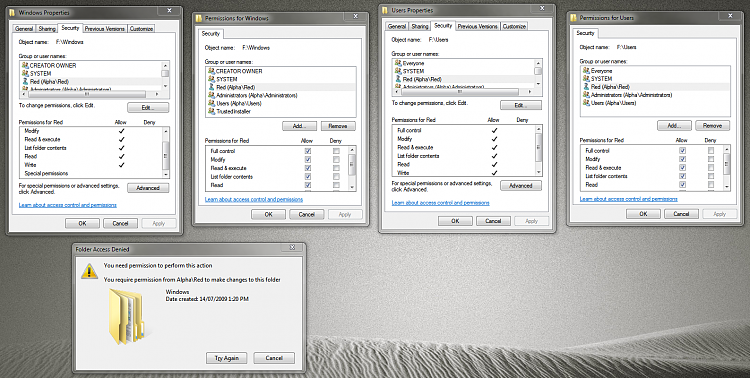 2)
Remove the old Windows folder on DISK 3. Same issue as with the Windows folder.
3)
Remove the 'System Reserved' partition (G) from DISK 3. I think I know how to do this but I'm not sure if it's safe to do so with my setup. How do I check if my boot files are on DISK 0 where they should be and not on DISK 3? Also, once I get rid of this partition can/should I then expand the other partition to take up that 100MB?
Unfortunately the data in the F drive on DISK 3 is important and I don't have any other drives to move that data to so that I can format the F drive. Hopefully it is possible to achieve what I have asked above without formatting the F drive?
Again,
any
help would be most appreciated! Thank you in advance.. :)