Hi again,
ok, both ST2000 drives are in and functioning well. I was pleased to see this from HDTune: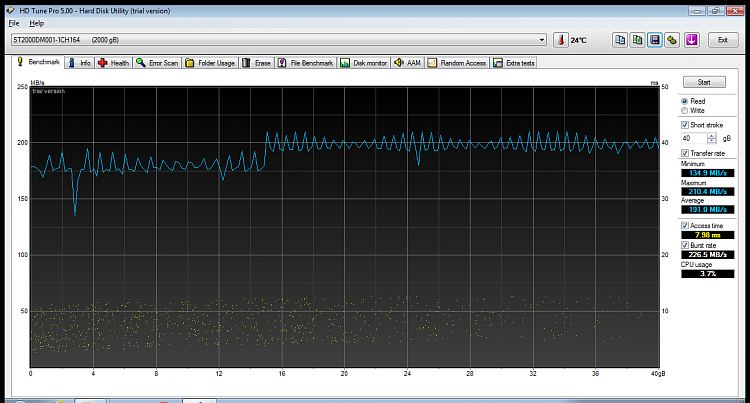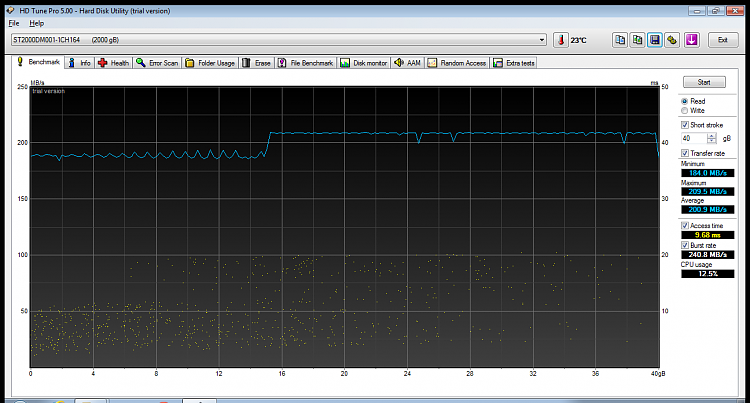 I was disappointed with previous speeds I'd seen moving files from old C: to the ST2000 (40 - 85 mb/s) but, duh, it's bottle necked by the WDC drive (old C)
I recall having some trouble getting AHCI drivers going, but I think I failed to enable in the BIOS during install, which was the thing I was determined not to forget. Using the methods posted by you helpful people got that going and I used the most recent AMD AHCI drivers.
The most recent chipset drivers from ASUS site, though 3 almost 3 years old, seemed to work well. I have to keep reminding myself that boards like this often have customized versions of manufacturer's drivers, and that kind of custom compatibility is way more important than the date on the driver.
AMD Catalyst 13.1 (1/15/2013) also functioned flawlessly.
It gets confusing when even the ASUS site has 2 completely different drivers for USB3.0, but I chose NEC since thats whats printed on the actual chip. I'm not sure what the other one is all about.
Power management is one thing that Windows 7 nagged me about for some time and I let it install AMD Cool and Quiet , which it actually downloaded from the ASUS site as I watched. The first time I went to launch the application for C&Q, it said my CPU wasn't compatible. Whaaaa? There seems to be a lot of options here between the component manufacturer and ASUS: Q Fan, FanXpert, Asus AI, EPU, Cool and Quiet, ASUS ProbeII, this thing [F:\Current Drivers\MB_WIN7_ATK\MB WIN7 ATK\64\AsAcpiIns.exe]. That's way too many choices if they even all do the same thing, not quite sure. QFan settings are in the BIOS with Silent, Standard, Turbo, etc settings. I really don't care if I have a windows based interface, but wouldn't avoid one if it was decent software and not a resource hog. I'd rather the entire process just be linked to my Power settings in Control manager and act accordingly. Any advice on that? Someone just give me direct orders to carry out :)
One reason I'm definitely doing a reinstall is that something all of a sudden began to conflict with my Logitech MX 3200 wireless mouse and keyboard. From what I researched folks were referring to it as a latency issue caused by another driver, often one having nothing to do with USB or wireless USB receivers. I can't remember what all the recommended potential fixes were, but it got messy fast, with Microsoft people giving their typical book sized proceedures to track down a possible IRQ conflict. Jeez. That was the first time Ive run into issues with that during 4 reinstalls. So I want to avoid it but don't know exactly the cause. I guess I'll go one driver at a time and let it settle in to look for this problem before installing more drivers. It's something that didn't occur until several days after the initial install, so nothing in the core drivers apparently. Anyone have any experience with what I'm describing. Results in very laggy response from both devices, and frequent periods of zero response. However I can get a connection again simply by walk towards the receiver with the mouse or keyboard, then it picks it up again. Batteries are fresh and the distance I'm sitting away is about 6 ft which had been no problem at all... until it was. Mouse will seem to start to stutter and slowly grind to a halt. Very frustrating. My cat has learned all kinds of choice vocabulary as I yell obscenities at no one in particular. Grrrrrrr.
What does the JMicron driver do on this board? It appears during post, listing my old school IDE DVD/RW drive in green (something about ATAPI), but somehow I must have chosen a replacement driver during my initial set up of the fresh install, because JMicron is nowhere to be found in device manager. Would that mean what ever it controls is not functioning? I guess I doubt that as I would have noticed but want your input. I'm now going to study the Clean Reinstall procedure posted above by Greg R and will possibly post some questions. After this long journey i want this install to be as perfectly executed as possible.
Whew, so there's all that. Thanks again all.