Howdy gregrocker and thanks for your reply :-D
So ya, I kept reading and researching yesterday and that eventually led me to installing Easy BCD and then going to:
- BCD Backup/Repair
- BCD Management Options
- Re-create/repair boot files
And then hitting Perform Action.
Everything worked fine as it brought me to the Windows boot manager at startup and gave me 1 Windows 7 option and one Linux Mint option. They both boot up fine, no issues. That said, opting for the Linux option brings me into GRUB and I still had those 2 Windows options. I'm kinda cool with it but not really, haha.
Now, that did move some stuff around the partitions (i.e. Disk Management). As I just read your thread, I marked my Sys Res as Active and now I have this: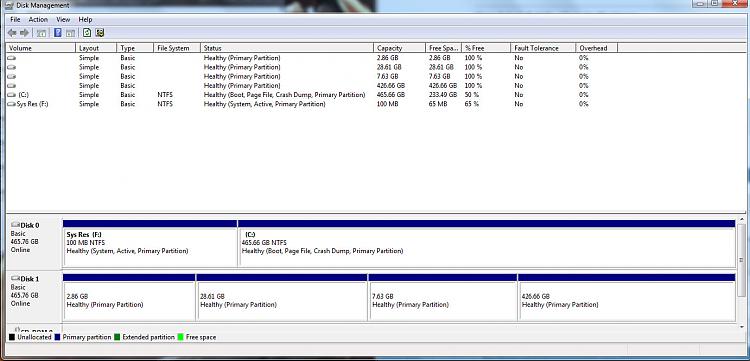 So, if I'm not mistaken, this is how it should look right? I also did a restart after marking the sys res as active and it brought me straight to Win 7. Cool stuff again i think (as I'll be going into my Linux HD through BIOS, which I'm super cool with). Now, I had dual booted Win7/Linux successfully a couple of months ago and eventually decided to remove the Lnux partition. To fix the bootloader, I went into the Command Prompt via a Live Windows 7 cd, entered bootrec.exe /fixmbr. This seemed to fix everything. Would doing this be good enough this time around to remove GRUB or should I follow every step that you suggested in your reply? Thanks alot man, really appreciate the help :-D