I finally got the machine to boot into win 7 even with the win xp drive plugged in. Like before.
What I did was repartition the win xp drive as shown, then run startup repair 3 times.
Also restored the BIOS to default.
Thought it was fixed, but it will only do that until the first time I force it (from the boot menu) to boot into win xp.
After that, it will only boot win xp, regardless of which drive you select in the boot menu.
Then if you run startup repair again, it will boot into win 7 OK until the next time you boot win xp.
Fwiw, the win xp drive always did show up in the windows 7 explorer as drive F:
Diskmgmt and Windows 7 explorer screenshots.
.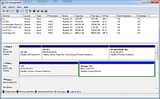 .
.
Any of that provide any clues?