Sorry, one and all. Having read your post Kaktussoft, I totally see your point of frustrations for all you guys do. I understand that the lack of gratitude from folks hurts and can so easily cause resentment and bitteness to creeep in. I knew Greg must be one of the best with almost 40,000 posts!! I do hope he'll still talk to me. Here is my screenshot for Computer Management. I took a screenshot of the wrong thing. I took a multiple screenshot of Disk Manager which sounded closest to Disk Management. I had to go back to my first post to remind myself how to see that picture of drives. This is from within Windows 7.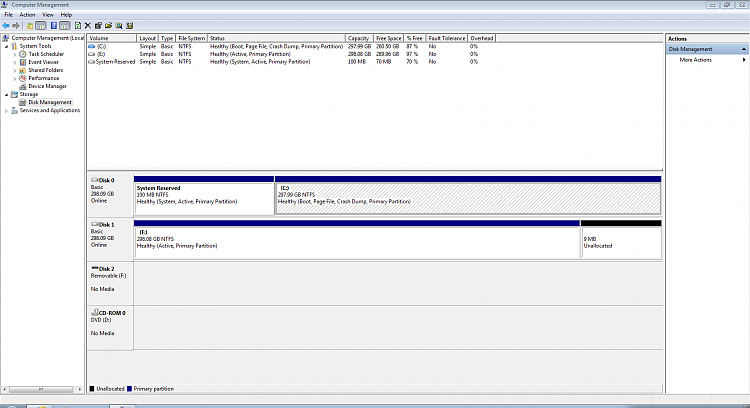 There is no longer any Vista stuff on the Windows 7 hard drive. In the link to the
Clean Reinstall - Factory OEM Windows 7
there are numerous other links. In step 8, one of those links is to
Clean Install Windows 7
. I did exactly what was written there minus the step of Refreshing My WEI Score (step 23 I think). And this I did AFTER unplugging the XP hard drive.
As for the Norton uninstall, here are 2 screenshots showing the situation right now. The first is in the Control Panel/Remove Programs to show what programs I have
in Windows 7
thus far. The second screenshot is a window within the Norton Removal Tool Program showing what it detects on my computer (Norton 15) and notice it will go no further until it is uninstalled with the only option for me being to click "Finish".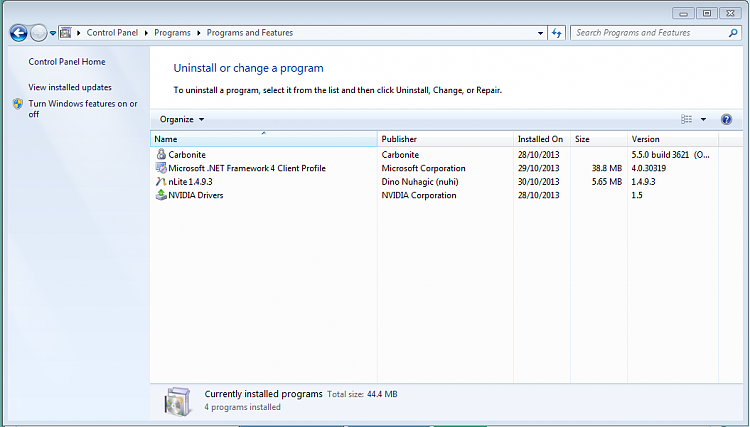 I haven't booted into XP yet this morning, to see if anything is different in that hard drive but as of the last thing yesterday afternoon when I signed off for the day, it was the exact same situation for the Norton Removal Tool.
No, I haven't yet installed MSE because your post laid out the plan in a very clear step - by - step manner. The 1st step was to use Control Panel Uninstall to remove Norton. Next was the Norton Removal Tool. Then was installing MSE. As I see it, Norton is still in Windows 7 (and XP) somewhere so I haven't moved on to the last step yet. I'm trying to follow all of your and Greg's instructions.
EDIT: after posting I booted into XP and sure enough the Norton Removal Tool gets to the exact same step and says the exact same thing as it does within Windows 7 regarding Norton Utilities 15.