The Problem: Dual boot Win7 – but OS on one HHD can't access OS partition on 2nd HDD
Both HDD's installed: When I boot to HDD2 with the cloned OS (it's Disk 0 – C:) I see & can access both drives & all partitions). So I set up dual boot with EasyBCD. But I couldn't get original OS - on HDD 1 - to boot; finally got it after more manipulations. However, HDD2 wasn't seen – had to add a drive letter to "Backup Storage" partition on Drive 0.
But I can't add/change a drive letter to the HDD2 - OS partition – W on Drive 0.
How do I correct this?
Mgt Console - HDD2/Drive 0 - no problems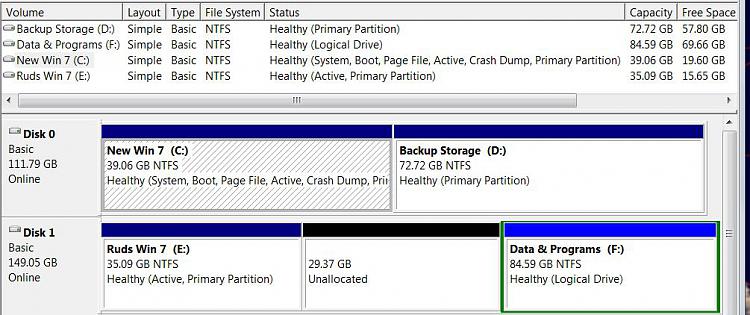 Mgt Console - HDD1/Drive 1 - can't change "W" letter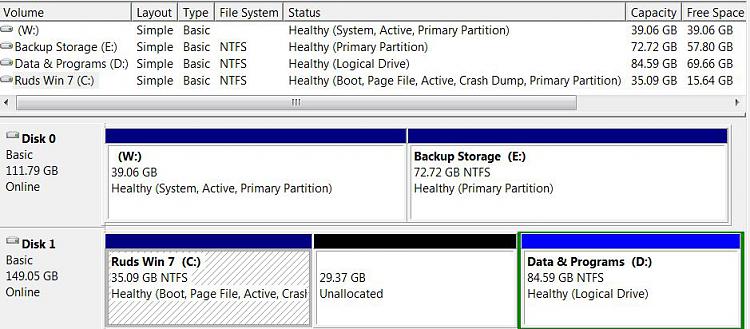 Mgt Console - HDD1/Drive 1 - attempt to change drive letter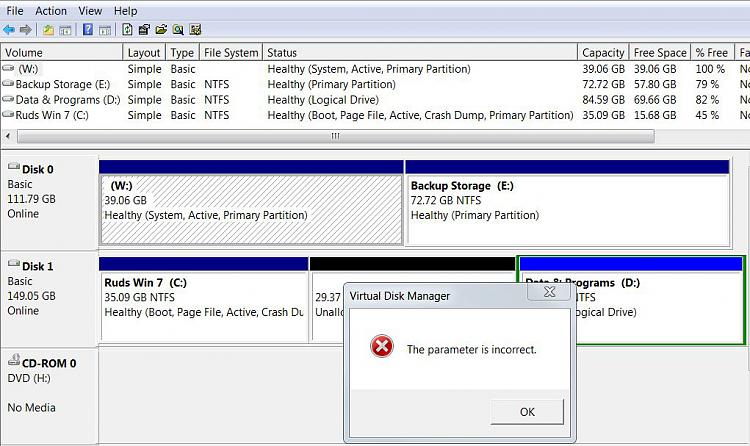 attempt to access the files
Here' how I got to this point:
A new SSD is coming tomorrow and I want to add it to an existing multi-HDD Dual Boot array (I have several existing setups). In the past, I've done clean installs to each HDD or SSD and used EasyBCD to setup the drive boot priority.
This time I want to clone an existing OS to the SSD and avoid the lengthy OS install/settings and tweaks. So I thought I'd do a dry run on a couple of existing systems before the SSD gets here.
Practice #1:
I used Clonezilla & everything worked out (had to run Startup Repair and use Partition Wizard & Paragon Rescue to assign drive letters & repaired boot mgr from command line) and got a successful boot then reinstalled the original HDD, booted then setup dual boot with EasyBCD.
Practice #2:
The second attempt on another PC – I ran into additional problems. After Startup Repair I was getting "autock program not found – skipping autocheck" which I eventually fixed by a regedit editing DosDevices\C: at startup/command line. I finally got the cloned OS to boot so I took out HDD 2 and installed the original HDD. I used Startup Repair & command line but still nothing – looked at disk structure and noticed Clonezilla had removed the drive letter from original HDD (which hadn't happened in Practice #1). Fixed that then had the Autock not found – and fixed that. I got a good boot with the original HDD1 so I installed the HDD2 with cloned OS.
(PS - practically all my skills & tools/utilities have come from this forum - thanks!)