Thanks for your patience....learning that I need to jot down the key steps done as I go to remember the correct sequence! Here is the diskmgmt screenshot of laptop and the two external usb HDDs I plan to use often with it (one for less-used data and the 2nd for backups). Besides having a separate partition for often-accessed data, I've decided to only install often-used programs (and those that doesn't allow choice to change location) in the OS partition and the rest in a separate "programs" partition on the same SSD drive so that if I run into problems with program installations, I would only need to restore the "programs" partition.
So, as shared earlier, I was getting crash dumps and blue-screen errors and they seem to happen when I plug or unplug flash drives/external USB hard drives from USB 3.0 4-port hub - more often when the laptop is on battery as compared to on AC. I read some threads in the BSOD forum and found one that had the same error number as mine, "BSOD Windows 7 6.1.7601.2.1.0.256.48". As suggested, I ran CCleaner and scanned with SUPERAntispyware, TDSSKiller, Malwarebytes, ESNET online scanner and all showed "clean". I tried to use the Forum's tools to upload the .dmp files but couldn't get it to work at the time and unfortunately no longer have a copy of the log from CCleaner.
Last Sunday, I got what had initially appeared as 4th system crash (screen went black) while I was preparing to run Windows Defender Offline and was unplugging the usb hub after going through the safe-removal icon (laptop was on battery, not plugged into surge protected outlet). But when I swiped the track pad, the laptop appeared to be waking up from sleep mode with desktop screen as it was before the 'blackout'.
The only Macrium backup image I had was of the system that was having the crashes and no SystemImage backups, So decided to reinstall as I've installed just a handful programs and...third times the charm, right? I also took the chance and followed the tutorial "Windows 7 Image - Customize in Audit Mode with Sysprep" to move Users and ProgramData folders to separate "programs" partition.
I remembered to make a system image after the installation and had just updated the chipset drivers. After doing that, I resolved remaining missing drivers. Then went on to install Windows Update for Windows only...but forgot to make another set of system image beforehand and should have installed the important and recommended updates in smaller batches.
I cannot remember how I got to looking at the event viewer logs and was concerned when I saw quite a few #s of errors and warnings shown for within the hour and 24hrs etc. I was able to create custom view to see system events with critical, error and warning flags and application events associated with system restore (but it didn't include the two points made before I ran Windows Backup).
Please see attached event log files and image of system restore points shown available through system restore and help me better understand whether I should be concerned with these flags...the ones remarking on disk errors and missing files are a bit disturbing.
2014 Jun04 system events log.rar
FYI: I had initially disabled BlueTooth since I don't use it but didn't realize that also turns off the general wireless feature - hopefully this didn't cause some of the error messages. Also had installed Intel Smart Connect Technology but hasn't configured it since at that time I have not configured Internet Explorer or installed MSE.
I've already installed MS Essentials 4.5.216 and ran full scan with no problems found. Would I need to restore with backup images or roll back to restore point before the Windows Update installation to resolve these events log errors / warnings? I still need to install core programs so would like to resolve this before doing so.
Appreciate all the help you can give!
I would also want to partition the two USB HDDs to match the standard folders in Win7 Users folder and library to later include them. Would it matter whether I use the Win7 laptop or my old XP laptop to make partitions (using MiniTool PW8) with regards to ownership/access/permissions?
Also I've been installing the programs using an administrator type account but would be using a standard user account for everyday work. Would that user account be able to run all those programs?
Below are some side items that occurred - keeping it separate to not muddle the main questions:
I checked to see all restore points available for rolling back before installing the updates and checked to see how restoring using the backup images would work...and for some reason, the same hard disk is recognized for making new system images (even showed the date of the last image made with that same disk - attachment of image) but
is not seen for recovering
(folder WindowSystemBackup is in root directory of the HDD as when it was made.
I then made Macrium backup images of the full disk, partitions need to restore Windows and restore the programs partition....don't have any data yet. Learning I was also able to mount the system images (that System Restore can see) in disk management (attach VHD) to then create backup Macrium images....there were three partitions (system reserved, OS, programs) correlating to disk 3, 4 and 5, which were all detached afterwards....would the OS somehow remembers and still look for these disks on routine basis? I saw some of the errors denoting HardDisk3, 4 or 5.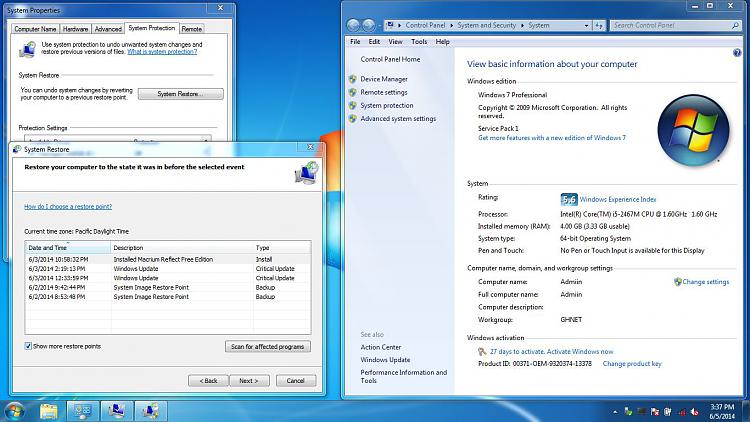 My apologies on the false alarm on the processor matter...when I ran the test yesterday the screen was scrolled down so I only saw the numbers and didn't see the warning sign at top of screen that the laptop was running on battery! It was just disturbing to see a big reduction from about 6 to about 3...and relating to processors!
However, the system health report did show two error that flags malware....possibly from SUPERAntispyware (according to thread "BSOD...") I've uninstalled that program with Revo Uninstaller and also use RKill program before doing full scan again with MSE. It came up clean. Should I check with another program? Running another health report doesn't show the errors any more.....having trouble with connection so I'm submitting the post now and will upload these reports later when I get a chance to zip them. Many thanks!