Hello, This is my first post and I had followed the following tutorials:
Windows 7: Clean Reinstall - Factory OEM Windows 7
Windows 7: Clean Install Windows 7
Windows 7: SSD / HDD : Optimize for Windows Re-installation
but used MiniTool Partition Wizard free home edition to delete original partitions (mistakenly deleted Dell Utility partition but had made an Macrium image with which to restore - but have not yet tested to see if it works), then created and formatted partitions as below:
40MB (FAT, primary, for Dell Utility) | 204MB System Reserved (NTFS, primary, set active)| C:WinPro_SP1 92GB (NTFS, primary)| 27GB unallocated (intend for some data storage)
and had re-installed Win7 Pro SP1 into C partition, using boot-able USB. The 2nd installation went well and activation accepted. I then processed all Windows Updates (critical/recommended for Windows), updated drivers, installed Kaspersky, Firefox, Foxit PDF reader, Macrium, and MiniTool PW8, created system images through Backup and Restore as I made the above major changes.
Then followed the tutorial:
Windows 7: Image your system with free Macrium
and just made Macrium WinPE Rescue USB to make a full disk image of all three partitions.
My main concern is that I noticed the System Reserved partition is shown as
System, Active, Primary
in Disk Management and
Boot, Pagefile, Crash Dump, Primary
for the C drive(see attached image).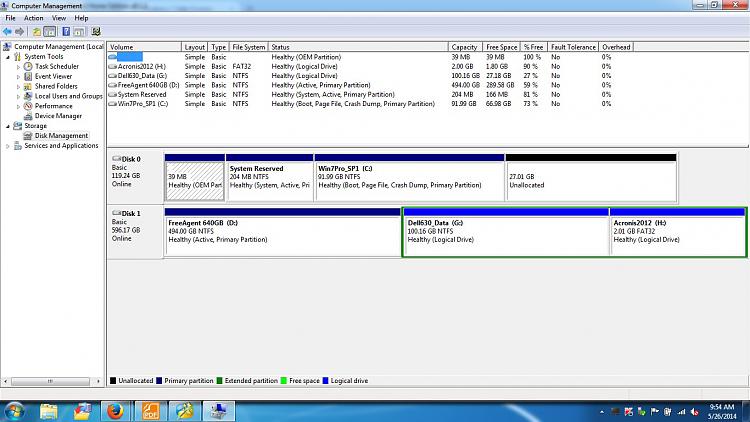 but in MiniTool PW8, the status column shows
Active & Boot
for the
System Reserved
partition and
System
for
C drive
(see attached image).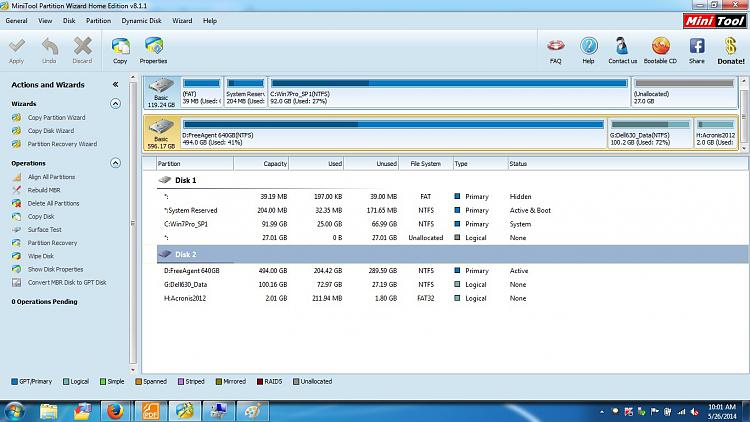 Is this configuration stable and correct for my laptop? or do I need to redo the re-install? From which partition is OS being booted?
Since the F8 link works, the partition is available for future dual-boot function and I've two sources for backup & recovery, I am inclined to only reinstall if the current drive configuration/setting is unstable and prone to crash dumps (which did happen after the first re-installation but could be due to the installing Kaspersky before doing the Windows Updates and allowing Windows to install device drivers). Could the mistake be marking the 200MB partition as active (instead of the C partition) before the Windows 7 installation from USB? FYI: I don't have experience working with DISKPART so would prefer use the MiniToolPW8 instead, if instructions could be given for this software.
I had also made a Macrium image of the original System Reserved partition (mistakenly?) thinking that I can restore to the newly created 204MB partition after the clean reinstall for the F8 link to recovery environment options (tested - it works) and for the option of dual-boot later. In reading this last tutorial, several of this site's tutorials on backing up system drives and posted replies, do I understand correctly that the Macrium image of the original System Reserved partition is no longer of any use?
Somewhere in the tutorials read, I recall a post that clarifies the System Reserved partition is also used by Windows 7 for Backup and Restore but when I checked the drive with Disk Management and with MiniTool PW8, I saw that the amount used is not even 1GB. Is the partition actually being properly accessed by the OS?
Thank you for any immediate help as I have only installed 4-5 listed programs above and prefer to do the re-installation (if advised) now before installing more necessary programs and doing the posted tweaks/optimization for SSDs and HDD (for data storage).