Hello,
This is my first post, and I'll start by saying that I'm not that great at computers. I had some issues with my computer, and just want to do a clean install. I'd like to figure out, step by step, how to do it. I have already read the tutorials, but I just want to make sure I'm right, because this is the only computer I have, and I'm worried about doing that fresh install!
I did, however, figure out all the first steps to doing a clean install on my computer :
I have written down the current licence key for my computer (using a keyfinder program) for the activation part.
I have backed up all the crucial information (.pdfs, projects, documents, pictures, etc...) I need on a 32Go USB stick.
I have downloaded the correct .iso file for my computer, and successfully copied it onto a 8Go USB stick using window's USB/DVD Boot tool.
Now correct me if I'm wrong; here's what I'm about to do :
I'll
stick my USB in
,
turn the computer on
, go to the
BIOS
, change the first checked device for a boot to my
USB stick
, restart my computer, and follow the instructions for the W7 installation, until it's done.
But this is what's confusing me : On my computer, I checked the partitions, and I saw:
C:\
with data on it,
F:\
with nothing on it (I never put anything on it), and a
"reserved system"
thing.
If I understood the tutorial correctly, I'll have to select C:\, hit format, and then click next (in the same window as in the screen below) without tampering with the others.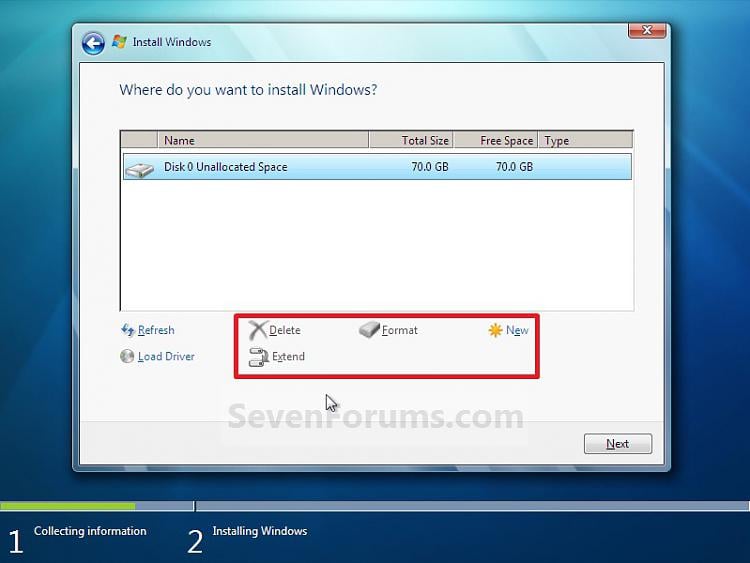 My question is ; is this right?
If not, how would you do a fresh w7 install with those three partitions?
Thank you for reading !
TLDR : I have three partitions, C:\, F:\ (empty), and "reserved space". Do I just format C:\ and click next in the advanced options of the partitions window during the installation to properly install w7 ?