Hello all -
I am working on a Dell XPS720 with a Win 7 Pro *32-bit* OS, 4Gb memory, 3 Seagate 750Gb drives, 2 DVD drives, 1 floppy drive, 1 Teac 4-port SIM card drive and an Nvidia GeForce 880GTX Display Adapter. The owner bought it 3+ years ago and never used it; been in storage all that time. He bought it through his company.
Start
1. Wouldn't boot - 1-3-2 beep code. Remove DIMMs, clean contacts & reinstall. Now boot ok.
2. Wouldn't run Windows Update; said needed services weren't running (not so). MS Level 1 Tech verified that BITS and wuauserv services were started, spent 30 minutes on it but couldn't fix the problem. I did some reseach & found a article that said to either delete or rename the
'c:\windows\softwaredistribution\datastore\logs\edb.log' and then reboot (said this file keeps track of the updates and the system would recreate it).
Renamed the file and rebooted. Windows Udates then worked just fine - got over 300 updates total (this PC had never had Updates run at all).
3. I need to mention here that apparently this PC shipped with Win Vista Ultimate installed, based on the MS COA sticker on it. I can only assume that his company's IT crew loaded the Win 7 Pro 32-bit OS (the owner sure didn't do it).
I looked at the disk and DVD drive setup; only two of the drives were online (C: & D:). The 3rd one was offline due to a signature collision. Following is the info from Diskpart inquiry:
Port 0 - D: DiskID: 20000000 (online)
Port 1 - nada DiskID: 20000000 (offline)
Port 2 - C: DiskID: C0923583 (online)
Note that the D drive had never even been formatted. The two DVD drives were (and still are) E & F.
Did some research on this issue & found out how to reassign a disk signature. I used Disk Mgmt & clicked 'Online' for the 3rd drive. I can't remember for certain, but I think there was a confirming entry to put it online - which I did not select at that time (wasn't ready to do this yet).
The next day when back on this issue, I discovered that the 3rd drive was now online as Drive H: (and Port
* 0 *).
After looking at Disk Management, I renamed all 3 disks as follows: Mike-C (C:), Mike-D (D:), Mike-H (H:)
Diskpart inquiry now shows:
Port 0 - H: DiskID: 8D768D76 Mike-H (H:)
Port 1 - D: DiskID: 20000000 Mike-D (D:)
Port 2 - C: DiskID: C0923583 Mike-C (C:)
On top of that, now there is a 'System Reserved' drive (G:) showing up in Explorer. This 'G:' drive is (presumably) the first partition of the Disk 1 'D:' drive. ???? Wow, a 100Mb drive!
Below is the current Disk Mgr screenshot ...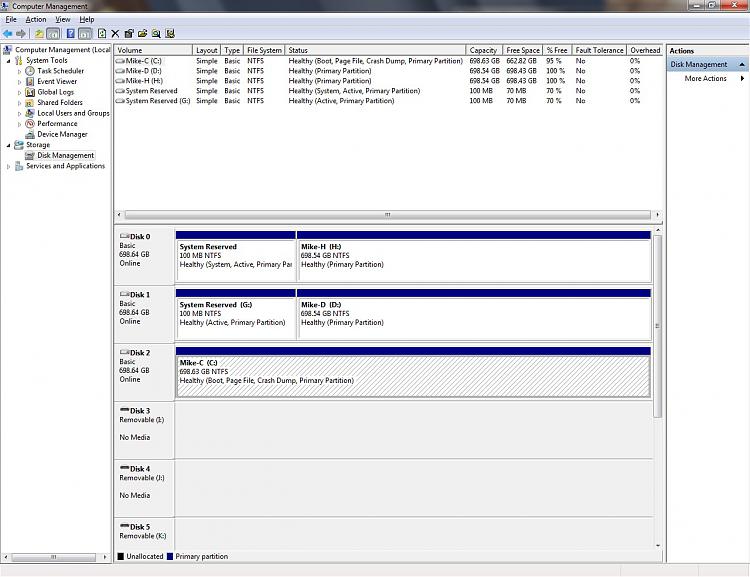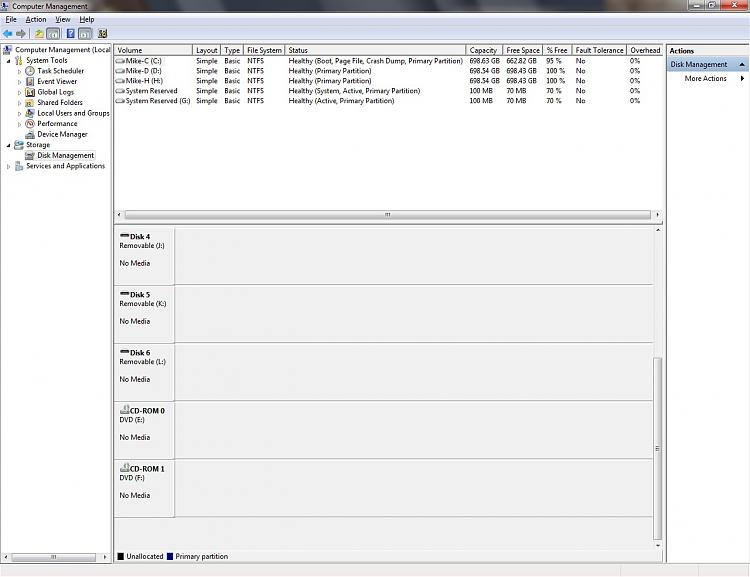 My goal is to first (maybe) try to get this mess cleaned up and re-organized into a sensible structure, and then to upgrade the OS to Win 7 Ultimate *64-bit* - as Drive C on **Port 0** - where the original OS probably was to begin with.
I don't want to blow away the current OS yet as there are some programs on there that he thinks he needs to keep (MS Office and a bunch of other stuff he will never use). Whatever. I ran License Crawler and gleaned what info it had to offer.
I just discovered one more minor mess that ought to be fixed. There is a 4 bay Teac SIM card reader installed and Device Manger politely informed me that none of the ports on that are working.
The four ports are as follows:
USB HS-CF Card Drive G:
USB HSxD/SM Drive H:
USB HS-MS Card Drive I:
USB HS-SD Card Drive J:
All four messages says "Windows cannot start the hardware device because its configuration information (in the registry) is incomplete or damaged. (Code 19)
Oh yeah, before I forget, the Dang floppy disc drive isn't working either (from the Explorer standpoint). What is odd here is that Dell's diagnotics will run and test the floppy drive - but it does not show up as Drive A in Explorer. Go figure.
Ultimately I think I am going to suggest to the owner that we split the first 750 drive (C:) into two partitions (450Gb & 300Gb), with the OS on C:. AND figure out how the Heck to grant his Administrator priviledge the ability to write stuff to any Dang where on Drive C!! I don't like anybody telling me I can't look at ANYTHING on my Daggone PC, and particularly that I can't write stuff where I want to!!! Pbbbbbbtttttt!
We may then use the 2nd 750Gb drive for backups, configured to the same sizes as the 1st drive. The 3rd drive should just be unplugged and saved as a spare. He needs 2.25Tb of storage like I need a half dozen Maseratis. (One is one too many for me!)
So, just where do I start here?
I have never dealt with a system of this caliber so I'm going slowly and doing a lot of learning!
All help and suggestions appreciated.
Fred