(click
here
if you have a GIGABYTE motherboard)
Intel Skylake Removes Support for USB based Windows 7 Installation - Major Platform Specs Confirmed
How to install Windows 7 64-bit in UEFI mode from USB flash drive if you have an ASUS motherboard.
https://rog.asus.com/forum/showthrea...ing-quot/page2
First of all, you need to have a Windows 7 64-bit USB flash drive that is compatible with UEFI mode. As long as it is
FAT32
formatted and has
\efi\boot\bootx64.efi
file, it should be UEFI bootable.
The easiest method to do this, would be to use Rufus:
https://rufus.akeo.ie/
Rufus automatically creates the
boot
folder in the
efi
folder and puts the
bootx64.efi
in the folder.
In Rufus do this (select the Windows 7 64-bit ISO image by clicking the CD drive icon):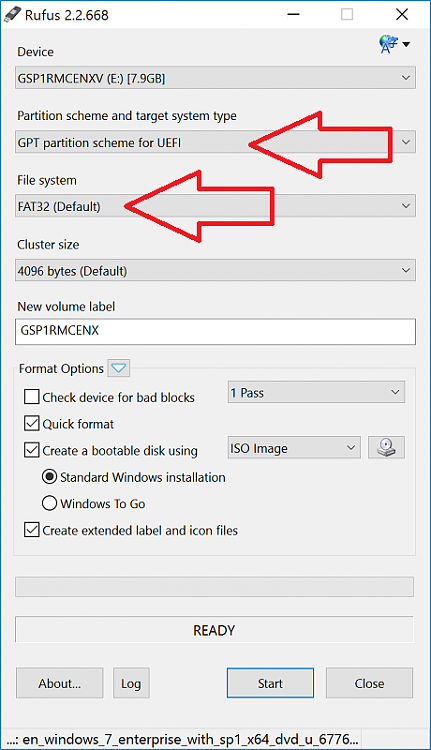 For example, ASUS Z170M-PLUS -
Driver & Tools
https://www.asus.com/Motherboards/Z1...Desk_Download/
> "Windows 7 64-bit" > "Utilities"
Download the "
EZ Installer
" (Windows® 7 and USB 3.0 driver installation for 100 Series and Braswell platform).
Then copy (from the
OS
folder) the
AutoUnattend
folder and
AutoUnattend.xml
file to the root of the USB flash drive:
Check the following options in the ASUS motherboard's UEFI BIOS settings before you install Windows 7.
Boot > CSM (Compatibility Support Module) > Launch CSM >
Enabled
(Default)
Boot > Secure Boot > OS Type >
Windows UEFI mode
(Default)
You must boot the installation media as a UEFI device.
- Reboot PC and enter the Boot Menu by pressing F8.
- Select the name of your USB flash drive. If you have CSM enabled in UEFI BIOS you will see it twice, but one will have a UEFI: prefix, select that.
Windows 7 64-bit USB flash drive should now boot fine in UEFI mode. The USB 3.0 driver will be loaded automatically during installation startup.
EDIT:
Windows 7 can normally be booted with the ASUS motherboard's Secure Boot feature enabled as well, but without actually using it.
But if you are
dual booting
Windows 7 64-bit and Windows 8/10 64-bit, then you must select the following option.
Boot > Secure Boot > OS Type >
Other OS
(default: Windows UEFI mode)
Or you get the following error message when you start Windows 7.
File: \Windows\system32\winload.efi
Status: 0xc0000428
Info: The digital signature for this file couldn't be verified.
EDIT:
If you have a
Samsung M.2 SSD
(for example, Samsung 950 PRO) then you will also need to download the Samsung
NVMe
drivers. You can download drivers from the link below.
Recommended AHCI/RAID and NVMe Drivers
"Samsung NVMe Drivers"
- Note: Get the pure driver files, not the installer set.
- Open your Windows 7 USB drive and create a folder named "nvme" in the root of the drive.
- Copy all of the NVME driver files you just downloaded to this folder.
Boot from the USB and "F6" the NVME drivers.
1. Click through the initial windows setup pages, selecting your language and then press "Install Now".
2. After accepting the License Terms, under "What type of installation do you want", select 'Custom (advanced)'.
3. You'll now see a list of drives and partitions on your computer. If you have a non-NVME secondary drive, it will be listed here – but since Windows 7 does not yet have drivers installed for NVME, it won't recognize any NVME SSDs. Let's fix that.
4. Click: 'Load Driver' below the list of drives.
5. Select Browse, and then expand the thumb drive (Likely labeled 'Removable Disk').
6. Select the 'nvme' folder, and press OK.
7. You should now see a Samsung NVME Controller. Select this driver and press 'Next'. The driver will be installed.
8. Once complete, and you'll return to the disk selection screen and should see the NVME SSD (you may have to click refresh).