hi All,
sir(s), it's done! sorry for the delayed response. thanks to all.
1. @ DavidE : sir, many thanks for providing the solution
(a) "
Create backup image(s) using Macrium with what you have now.
" i forgot the power of system imaging for a moment.(b) "
If that's true, a Win 7 Startup Repair would probably fix a Vista boot problem."
yes sir it did and for the first time i am able to experience the power of dual boot ! (c)"
If not, then you could restore the current System Reserved partition"
sorry, that's not 100% . as system reserved partition is lying with vista C:, a system reserved partition restore, here, would again corrupt win 7 boot loader and would again need a system repair for win 7 as before. as a final result dual boot would be achieved and that too with desired state(s) of win 7 (& vista) but with all dual boot's concerns i expressed in the previous post. [image(s) would further clarify]
thanks for the all important link about posting screen shots. image(s) would follow.
2. @ AddRAM :
Why didn`t you put Vista on another drive ?And I would have installed Vista with the 7 drive unplugged so they are separate,
(a) sir, good idea but, unplugging and plugging internal hard drive(s) in a laptop ? (b) handling more than one internal harddrives in a laptop ? (c) it wouldn't be eating into ventilation space/scope of the laptop ?
3. here is a brief about troubleshooting
the final outcome SUCCESS.docx
4 . image(s) are here

a) this is the image when i started the thread i.e. vista 32 was just installed and vista 32 was a active partition ! (and system reserved 100 mb was rendered just a raw partition) At this moment win 7 64 was not working and i was advised to repair win 7. it did so but with all dual/multi boot concerns i expressed later. NOTE : even after win 7 started working, the disk management view was same.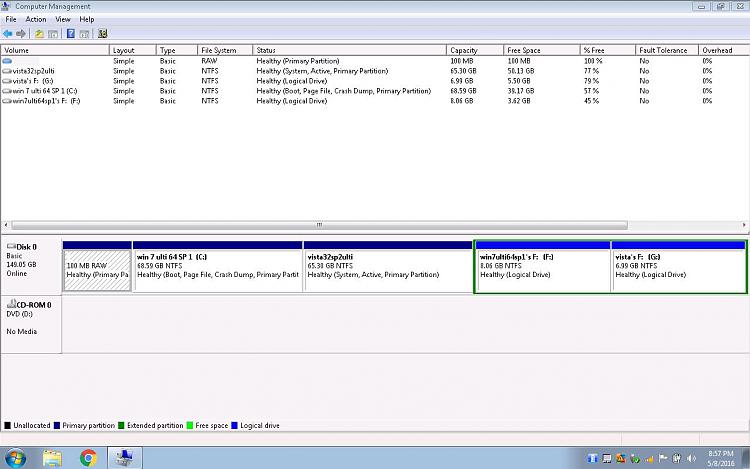 (b) and this is the image when everything has solved. boot loader partition is independent of the two partitions : vista 32 and win 7 64 and both are working. System reserved 100 mb back in action NOTE : 1. this image also represents the view before vista installation if one assumes vista partition as unallocated space or empty primary partition. 2. this image also represents the view when desired win 7 64 image was restored and vista 32 needed a repair.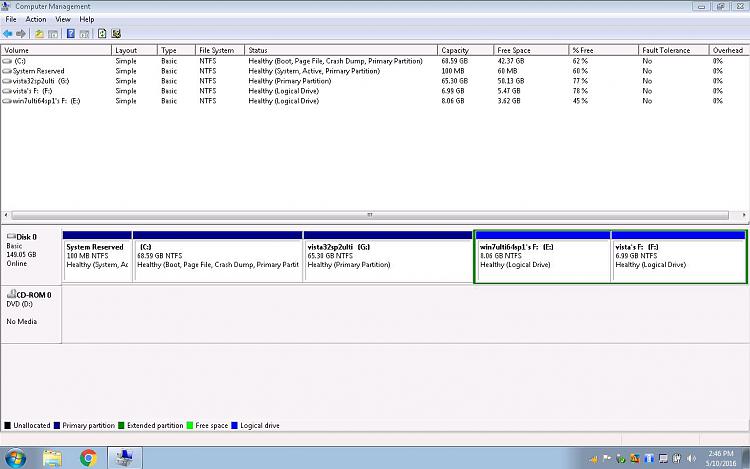 (sorry, having tough time with ISP)
Regards & Thanks,
Vineet Garg.